KR├?LICK├Ł SN─Ü┼ŻN├ŹK: ZE ZLAT├ëHO FONDU ─îESK├ŁCH TRAIL┼«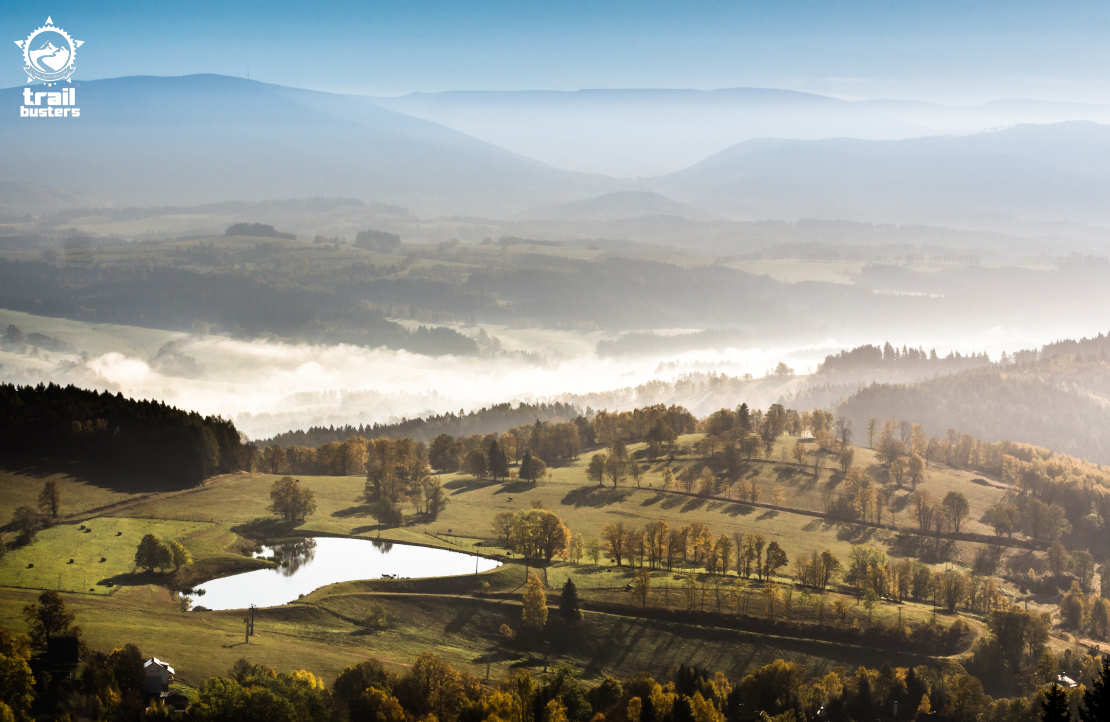 Podzim v pln├ęm proudu, slunce se p┼Öed chv├şl├ş vykotoulalo nad obzor, na louk├ích se je┼ít─Ť l├şn─Ť p┼Öevaluj├ş rann├ş mlhy, bo┼żsk├Ż klid, trochu kosa. My u┼ż stoj├şme v sedle nad Hyn─Źicemi pod Su┼íinou, zapadl├ęm ├║dol├ş pohrani─Źn├şho kraje. ─îek├í n├ís tu toti┼ż okruh kolem Kr├ílick├ęho Sn─Ť┼żn├şku a - klidn─Ť to prozrad├şme rovnou - jedno z nejlep┼í├şch bikov├ín├ş v ─îesku.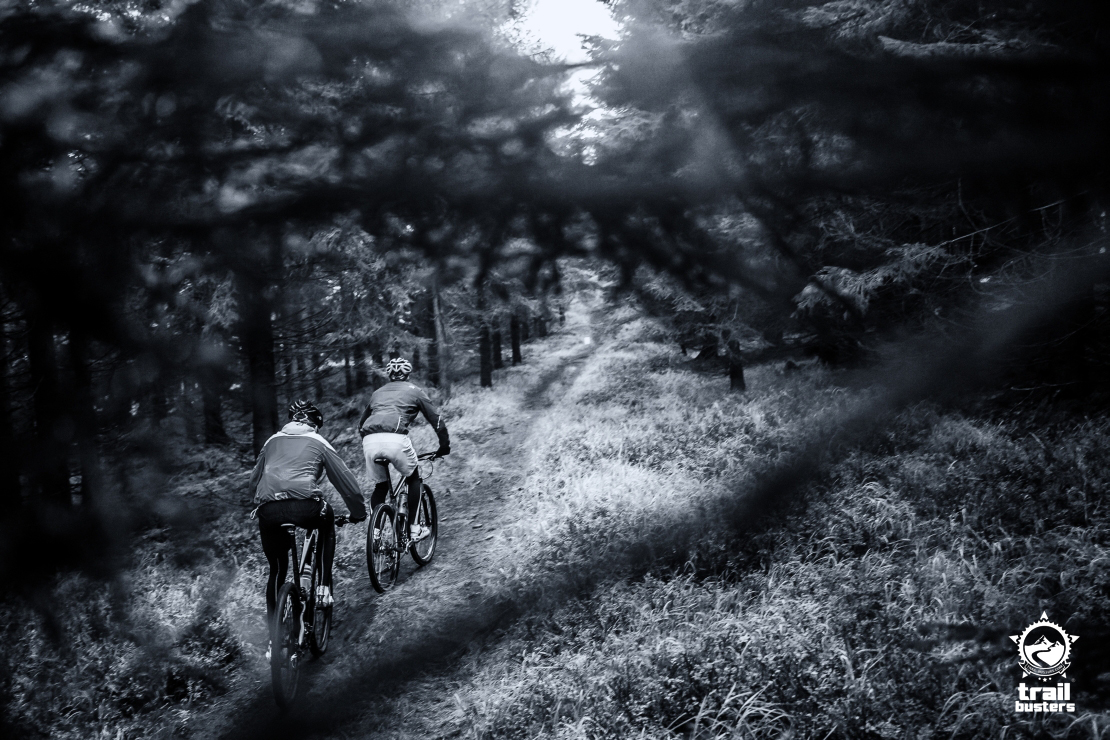 V├Żhoda na┼íeho startovn├şho bodu je, ┼że jsme p┼Öekvapiv─Ť rychle p┼Ö├şmo pod h┼Öebenem. Samotn├ęmu vrcholu se dnes vyhneme - je to NPR, tak┼że nechceme b├Żt za zlo─Źince. Ale...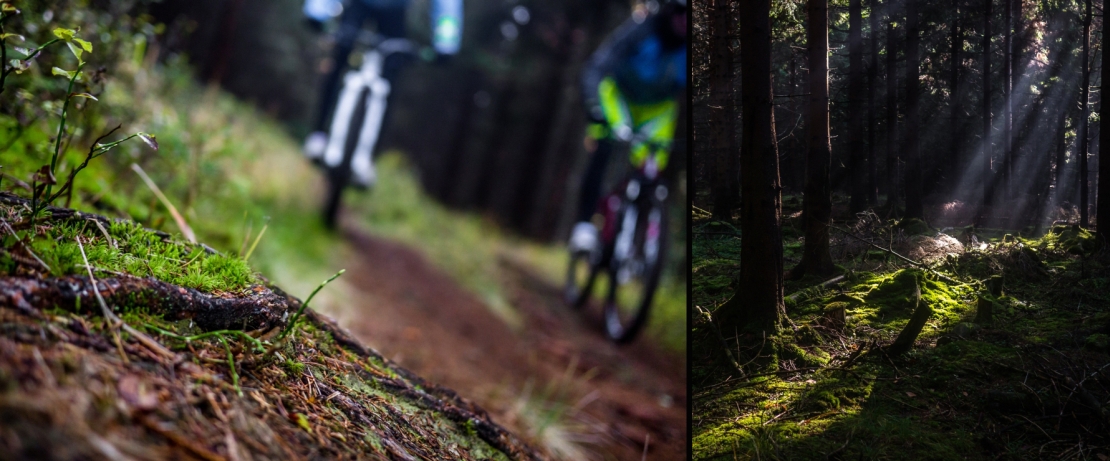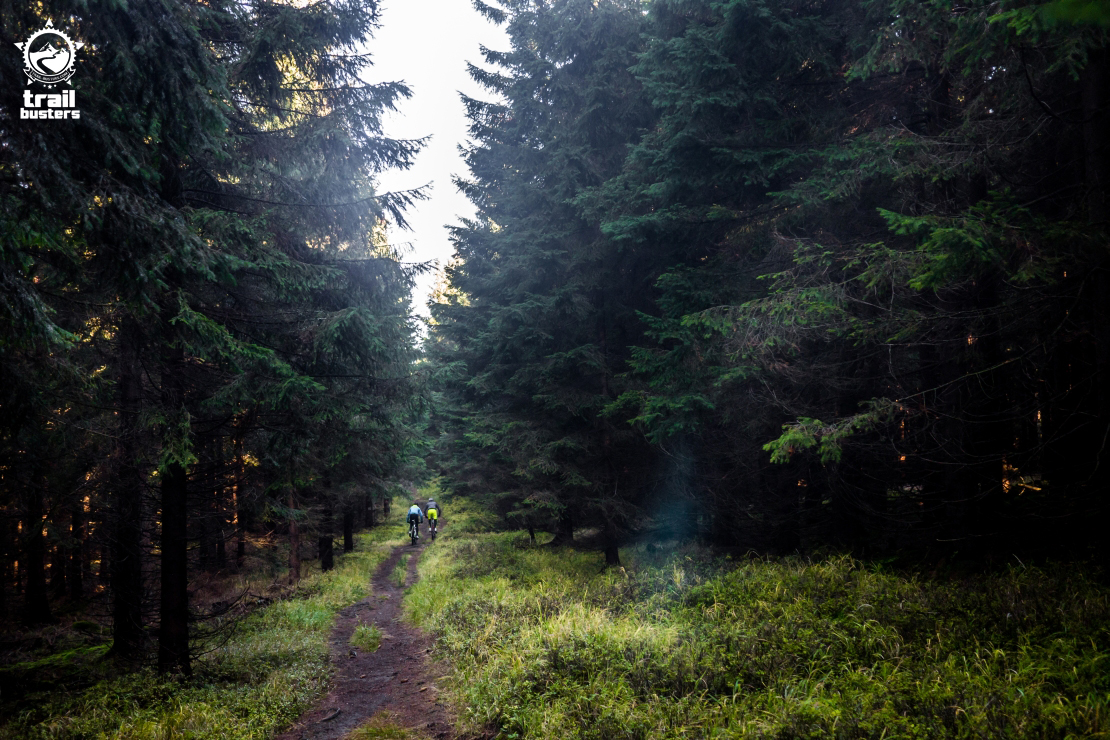 ...to v┼»bec nevad├ş! Kousek nad Adelin├Żm pramenem se napojujeme na zelen─Ť zna─Źenou stezku kop├şruj├şc├ş hranici. Tak┼że? ┼áut┼Ö├şky, ko┼Öeny, p┼Öitom flow jak bi─Ź. ├Üsek m├í poctiv├Żch 5 kil├ík┼». A┼ż do Kladsk├ęho sedla si samou radost├ş skoro nevydechneme.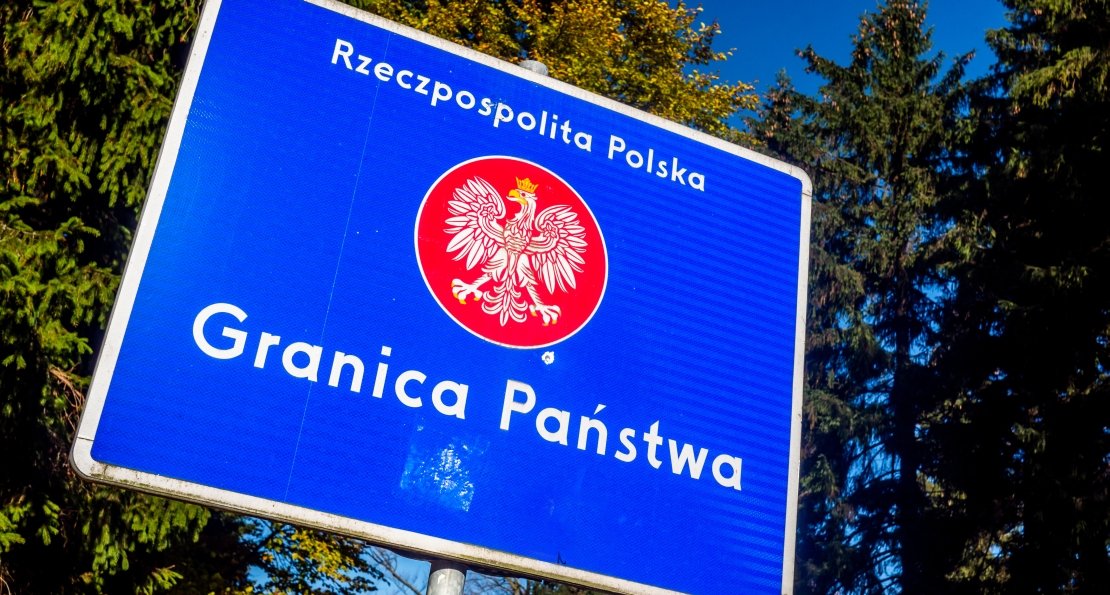 Ze sedla bychom mohli pokra─Źovat d├íl na h┼Öeben Rychlebsk├Żch hor, kde divokou p┼Ö├şrodou nem├ęn─Ť bo┼ż├ş hrani─Źn├ş trail pokra─Źuje dal┼í├ş des├ştky kilometr┼» (report z p┼Öejezdu TADY). My jsme tu ale dnes kv┼»li Kr├ílick├ęmu Sn─Ť┼żn├şku, tak┼że rychlebskou srdcovku nech├ív├íme ladem a to─Ź├şme se do Polska.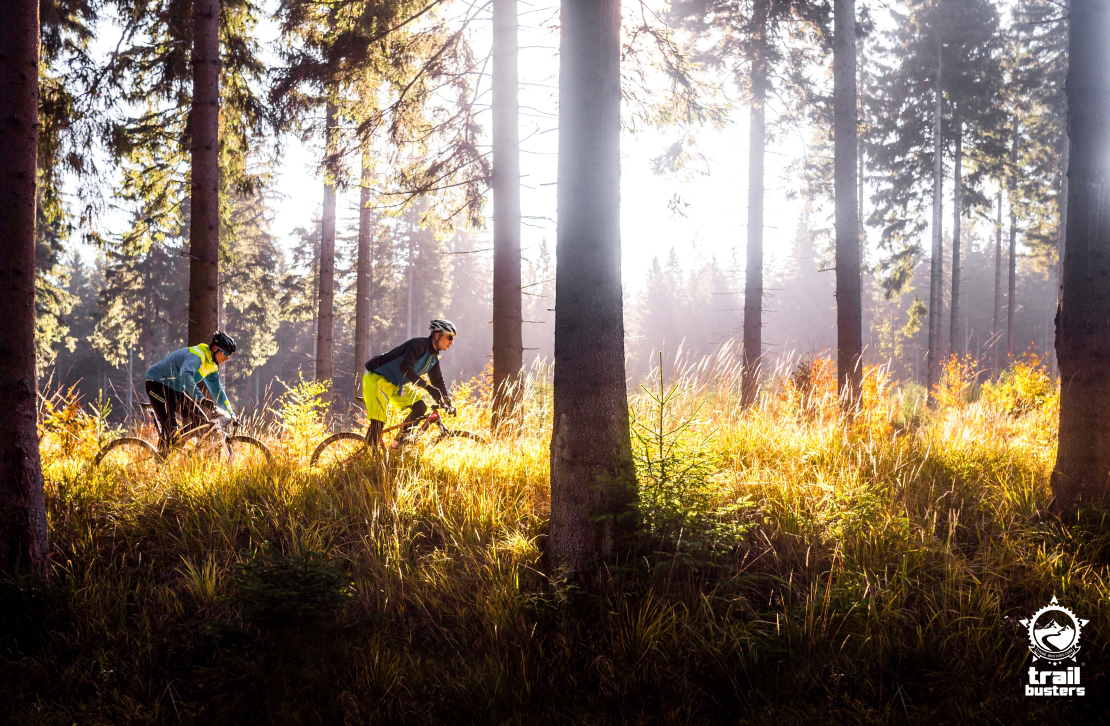 Celkem nudn├ę a zdlouhav├ę traverzov├ín├ş kr├ílick├Żmi svahy na horskou chatu Schronisko Na ┼Ünie┼╝niku zachra┼?uj├ş rozz├í┼Öen├ę podzimn├ş barvy a vrchovat├Ż tal├ş┼Ö vyhl├í┼íen├ęho polsk├ęho bigosu (na chat─Ť berou koruny i ├ę─Źka).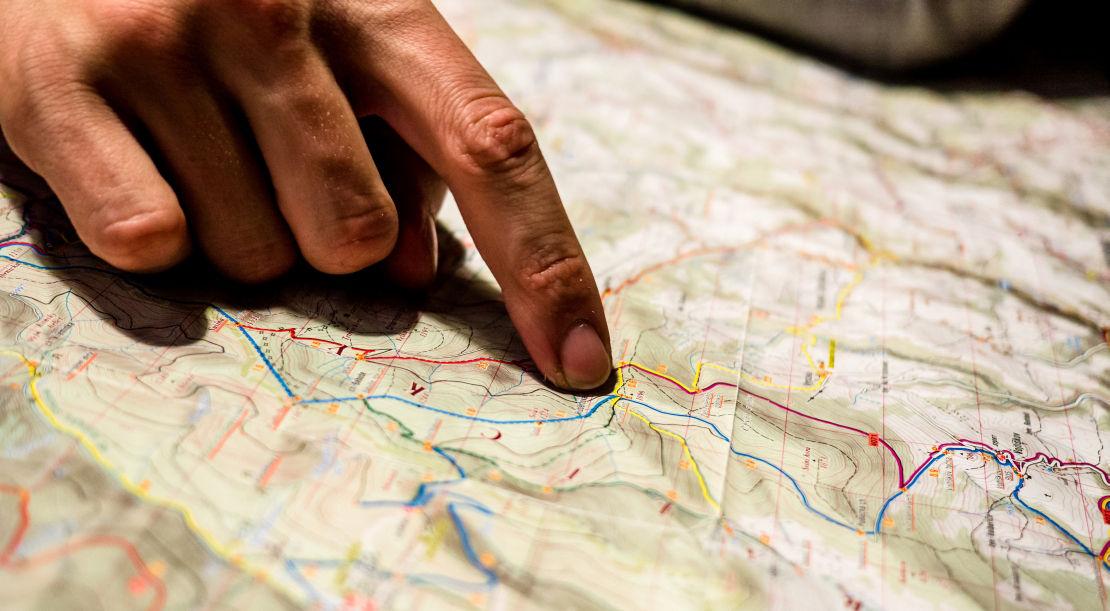 Tak co tu máme dál?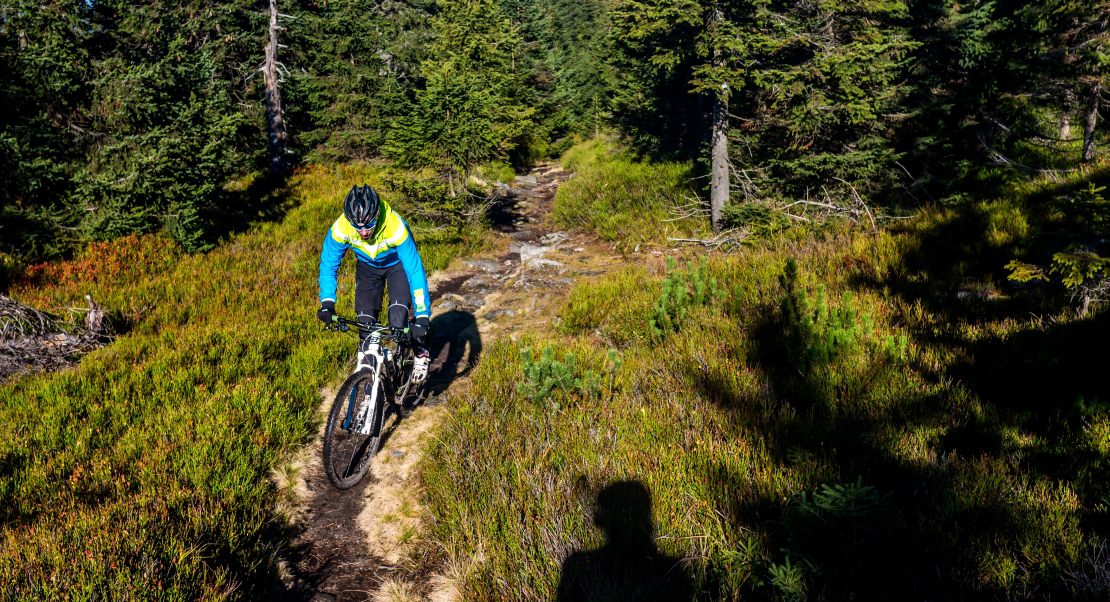 Kousek za chatou se odpojujeme z kamenit├ę, u┼ż tak celkem technick├ę lesn├ş cesty, chvilku tla─Ź├şme a jsme na Mal├ęm Sn─Ť┼żn├şku. A te─Ć to za─Ź├şn├í b├Żt opravdu zaj├şmav├ę!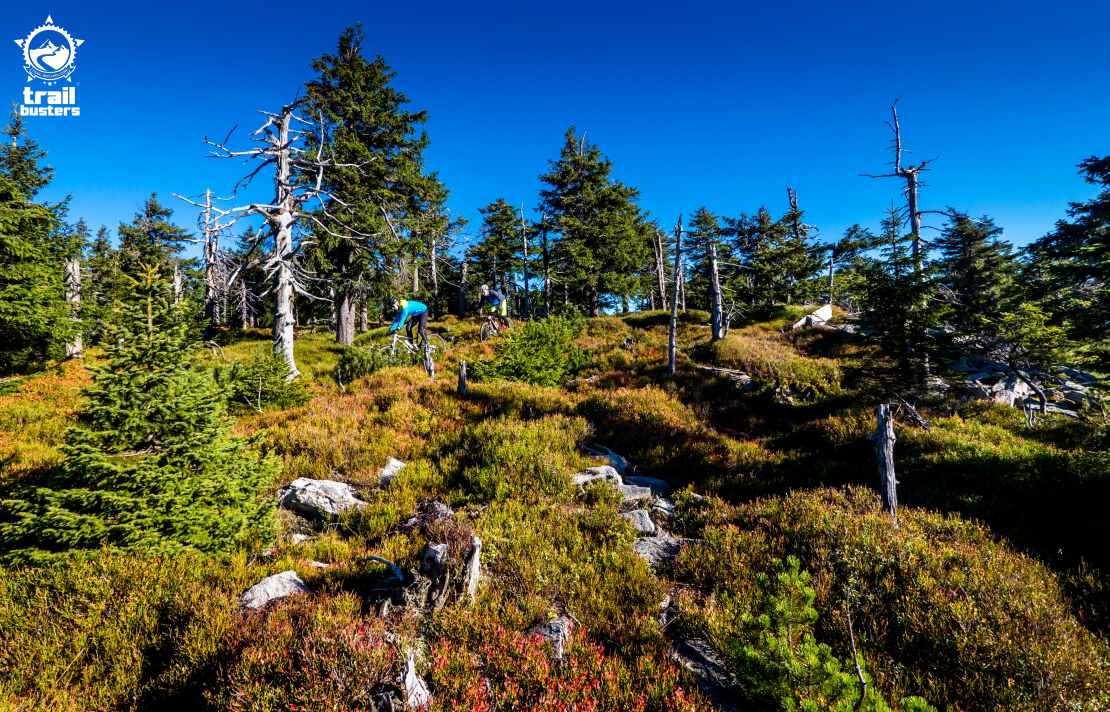 Trail se prob├şj├ş kr├ísnou, divokou p┼Ö├şrodou...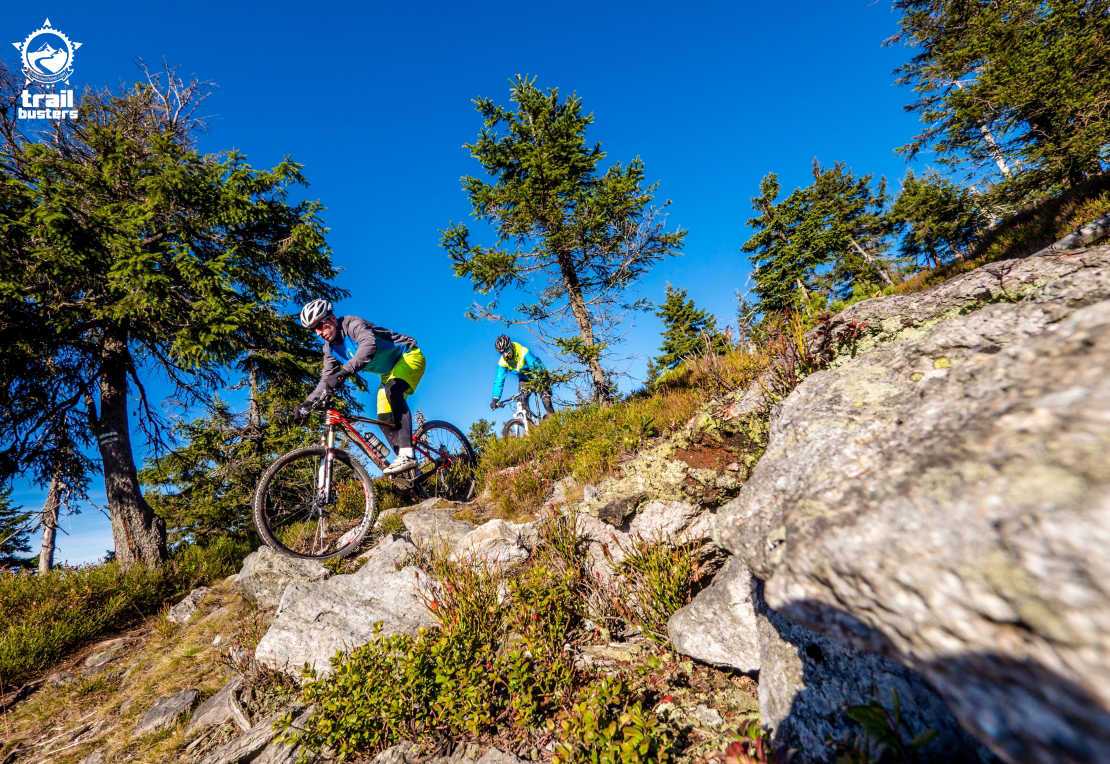 ...jedna n├íro─Źn├í technick├í pas├í┼ż st├şh├í druhou.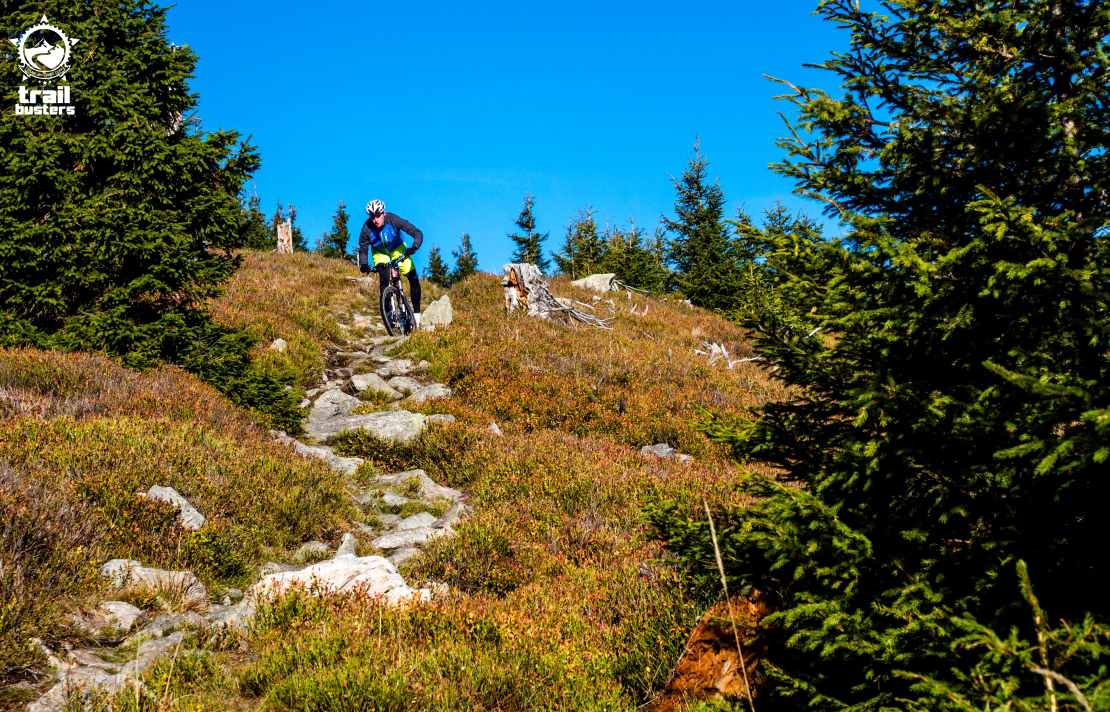 V┼íechno se d├í jet. T─Ť┼żk├Ż, ale f├ęrov├Ż ter├ęn. Ko┼Öeny, ┼íutry a skalky. Vy┼í┼í├ş d├şv─Ź├ş. Sotva vy┼Öe┼í├şte jednu pas├í┼ż, u┼ż pad├íte do druh├ę. D├íte jich p├ír za sebou a najednou c├şt├şte, jak v├ís pohlcuje vlna flow. Ne toho trendy vybagrovan├ęho flow, ale star├ęho dobr├ęho ┼ípinav├ęho oldsk┼»l bikingu. Toho, p┼Öi kter├ęm p┼Öekon├ív├íte sami sebe, p┼Öi kter├ęm se mus├şte o z├í┼żitky poprat a zaslou┼żit. A┼ż mi slza uk├ípla!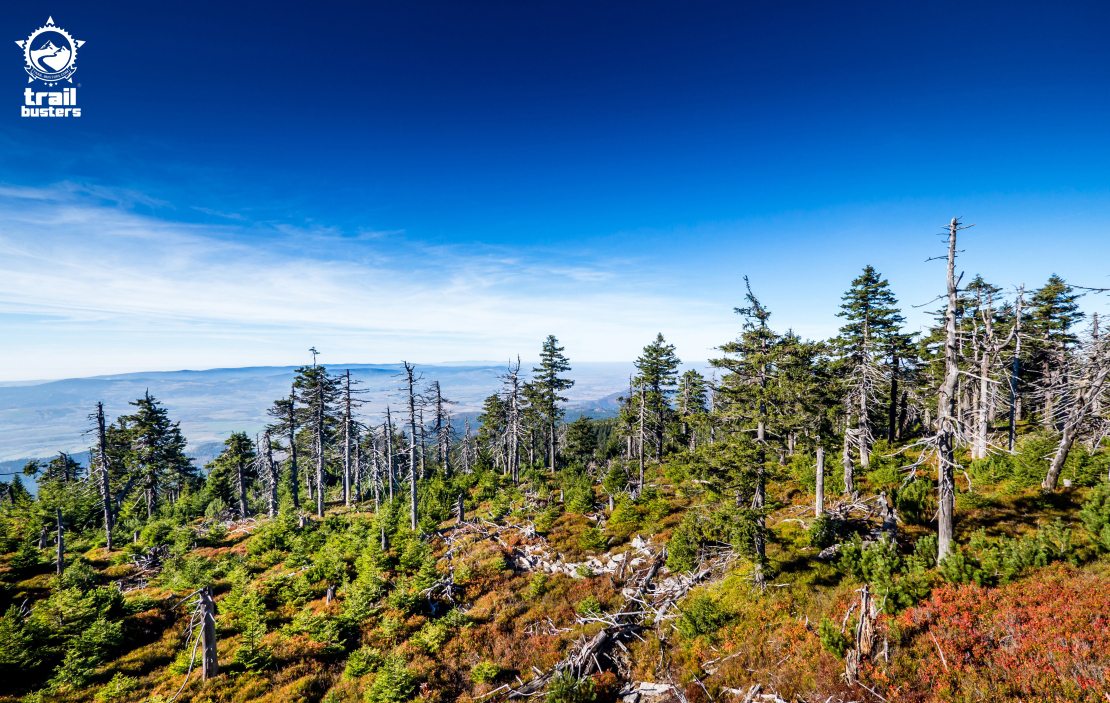 No a k tomu ty v├Żhledy...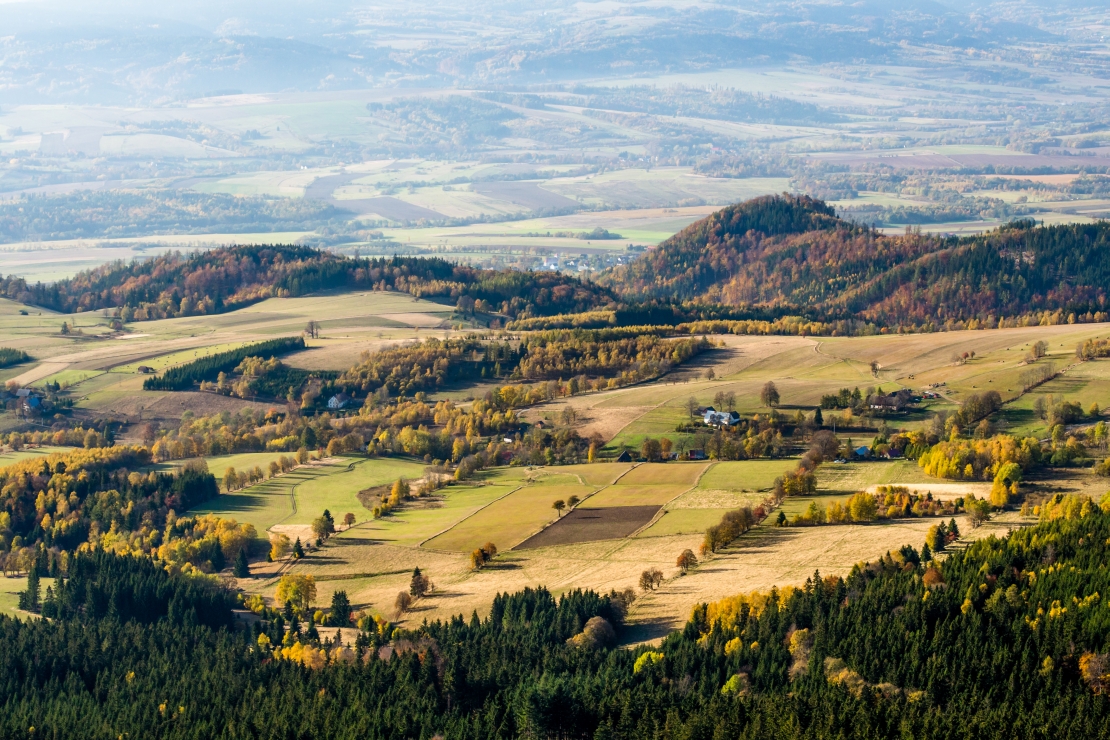 ...z rozhledny na Klep├í─Źi to obzvl├í┼ít─Ť na polskou stranu te─Ć na podzim stoj├ş za to. Zaslou┼żen├í t┼Öe┼íinka na dortu. M┼?am a mlask.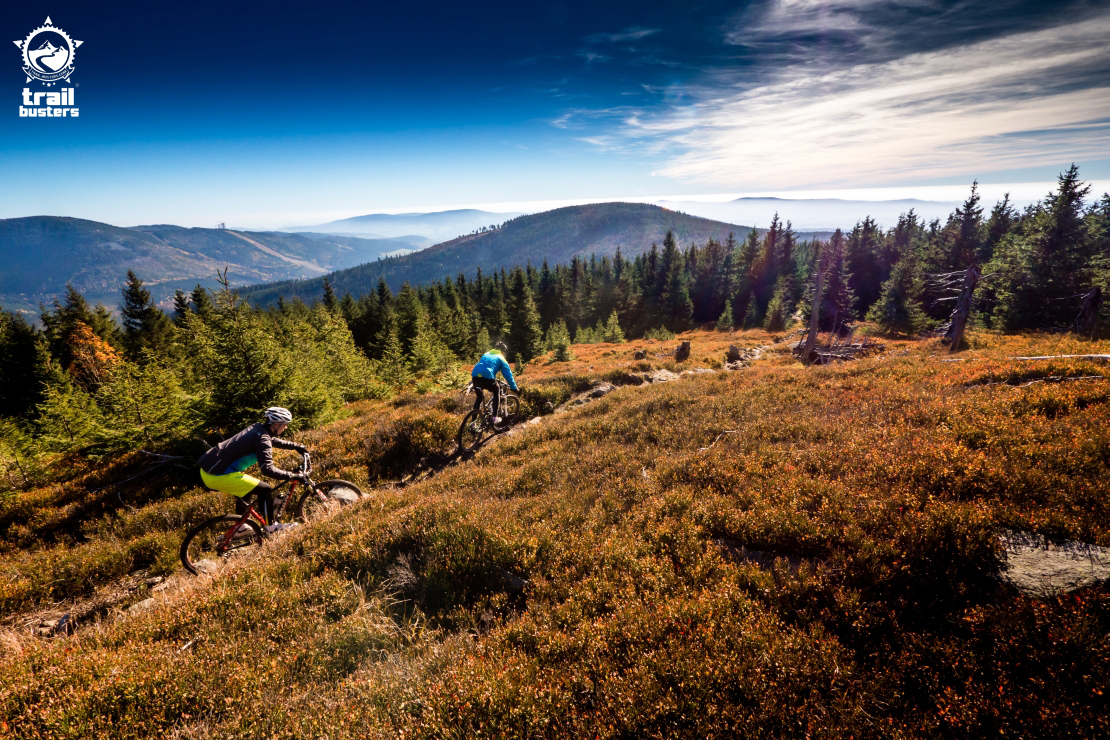 A┼ż na Horn├ş Moravu je to extrat┼Ö├şda. Odsud bychom mohli je┼ít─Ť pokra─Źovat po h┼Öebenu, ale po ned├ívn├ę kalamit─Ť je tu je┼ít─Ť hodn─Ť napadan├Żch strom┼». Tak┼że to to─Ź├şme dol┼» do Doln├ş Moravy. Vyplat├ş se neminout ─Źervenou zna─Źku sm─Ť┼Öuj├şc├ş na parkovi┼ít─Ť Pod Klep├í─Źem a vyzkou┼íet si ─Ź├íst erzety dolnomoravsk├ęho endura. Zb├Żv├í se promotat p┼Öes kope─Źky do Hyn─Źic a m├íme hotovo.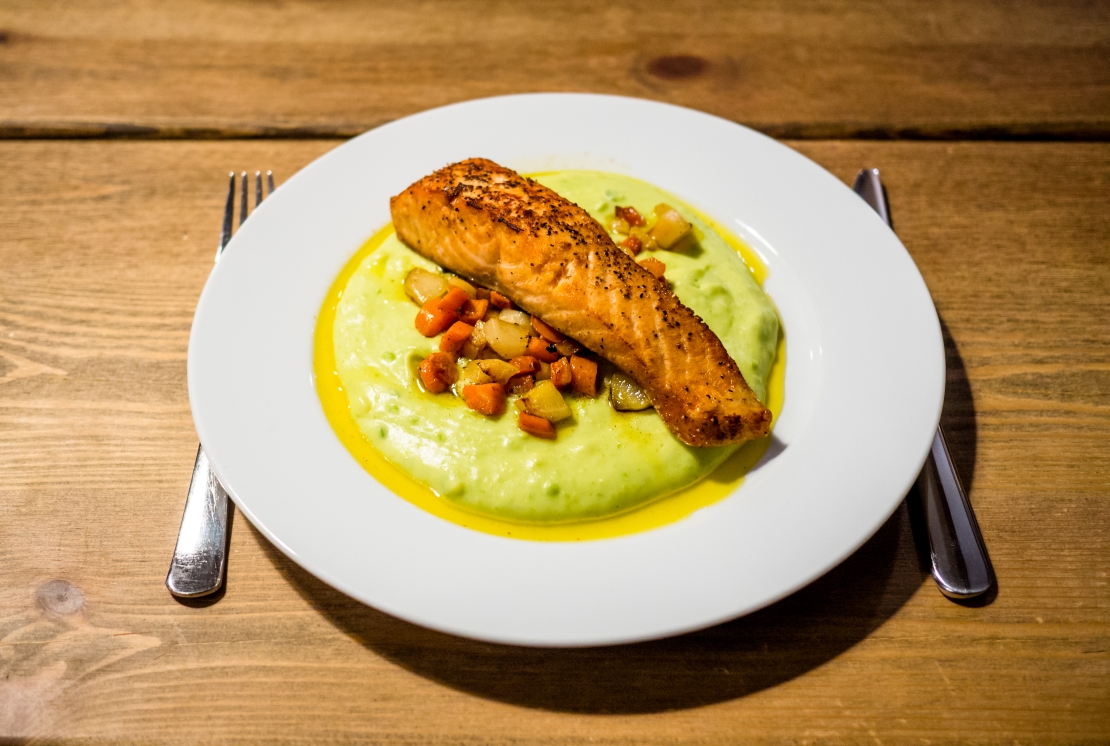 V noh├ích poctiv├í d├ívka kilometr┼», hlava narvan├í k prasknut├ş ter├ęnn├şmi endorfiny. ─îlov─Ťk by ┼Öekl, ┼że lep┼í├ş to b├Żt u┼ż nem┼»┼że. A ono jo. Zastavujeme v Penzionu Kolovna, z kter├ęho n├ís kluci dnes prov├ízeli, a nar├íz m├ím p┼Öed sebou tal├ş┼Ö s grilovan├Żm lososem na konfitovan├ę zelenin─Ť s hr├í┼íkov├Żm pyr├ę. Fam├│zn├ş!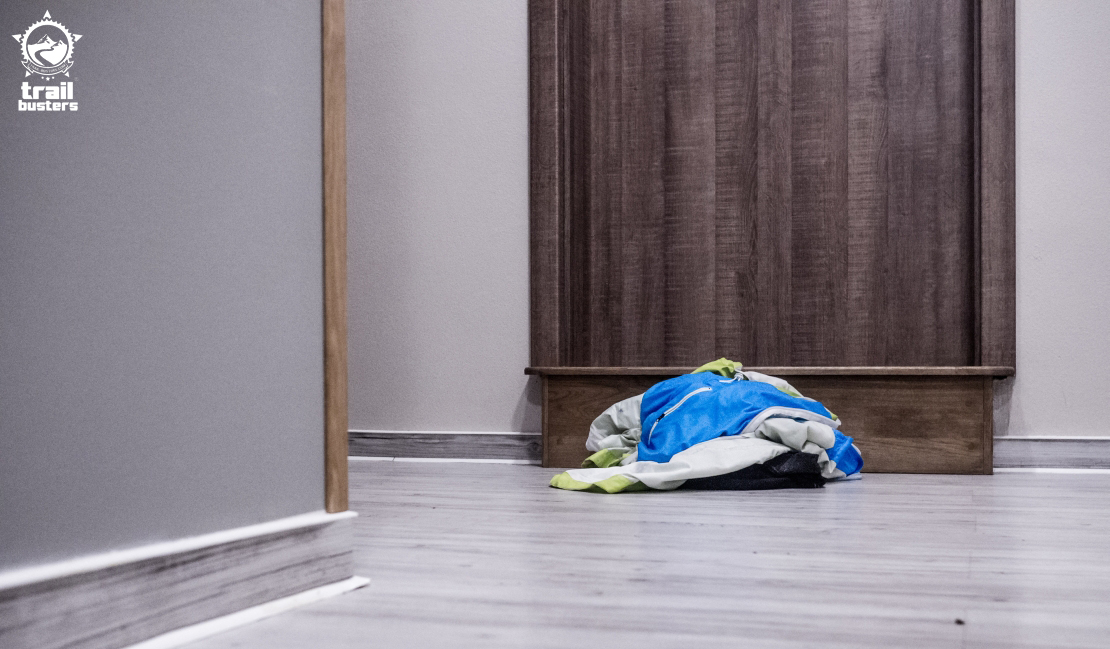 Ve─Źer h├í┼żu ┼ípinav├ę hadry na hromadu p┼Öed dve┼Öe pokoje...r├íno m├ím p┼Öed nimi srovnanou ├║hlednou ─Źistou hrom├ídku. ┼Ż├ídn├ę p┼Ö├şplatky, je to v cen─Ť. ─îum├şm. K dispozici je i cyklod├şlna, my─Źka na kola, p┼»j─Źovna bik┼». Je moc p┼Ö├şjemn├ę vid─Ťt, ┼że stejn─Ť dob┼Öe a kvalitn─Ť, jak jsme to dlouho znali jen ze "z├ípadu", to jde d─Ťlat i u n├ís.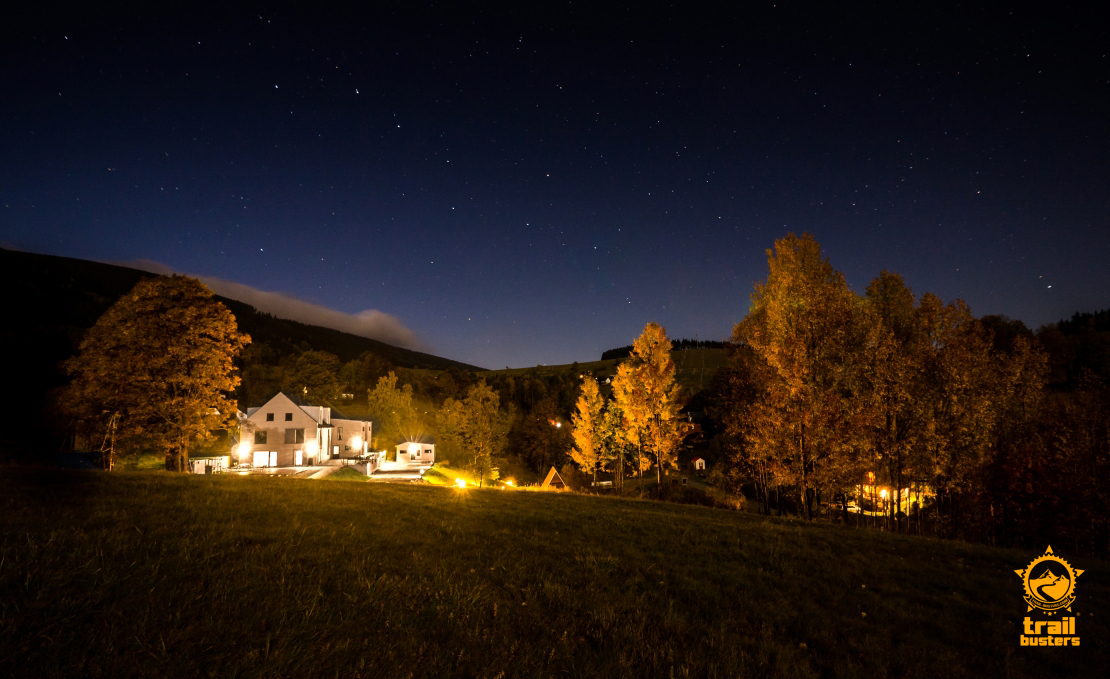 Tak┼że noc na krku, nad st┼Öechou Velk├Ż v┼»z, nejvy┼í┼í├ş ─Źas si to p─Ťkn─Ť sesum├şrovat. Nenechte se zm├íst, ┼że na samotn├Ż vrchol Kr├ílick├ęho Sn─Ť┼żn├şku maj├ş cyklist├ę z├íkaz, okoln├ş h┼Öebeny p┼Öedev┼í├şm pod├ęl hranice nab├şzej├ş jednozna─Źn─Ť jedno z nejlep┼í├şch bikov├ín├ş v ─îesku. Naho┼Öe to nen├ş pro ka┼żd├ęho, zadarmo se tu nic nerozd├ív├í, u┼żij├ş si tu milovn├şci t─Ť┼żk├Żch trail┼» a n├íro─Źn├ęho horsk├ęho bikov├ín├ş. Pokud si na h┼Öebeny netroufnete, nevad├ş, m├íte tu malebn├í, klidem s├ílaj├şc├ş ├║dol├ş nebo naopak bohat├ę atrakce sousedn├ş Doln├ş Moravy. A to je pr├ív─Ť super, lokalit s tak bohat├Żm v├Żb─Ťrem u n├ís moc nen├ş. Kdy┼ż si to spoj├şte s p┼Ö├şjemn├Żm Penzionem Kolovna, kter├Ż je nejen dobr├Żm n├ístupn├şm bodem na Kr├íli─Ź├ík i rychlebsk├Ż h┼Öeben, ale tak├ę nab├şz├ş u n├ís zat├şm ne ├║pln─Ť obvykl├Ż standard kvality slu┼żeb, m├íte r├ízem p┼Öed sebou par├ídn├ş tip na luxusn├ş v├Żlet do neprofl├íkl├ę, p┼Öitom velmi-velmi zaj├şmav├ę lokality. U┼ż te─Ć se t─Ť┼í├şm, a┼ż se sem zase vr├ít├şm.