NA HĹ?EBEN VELKÉ FATRY. A LEGĂ?LNÄš!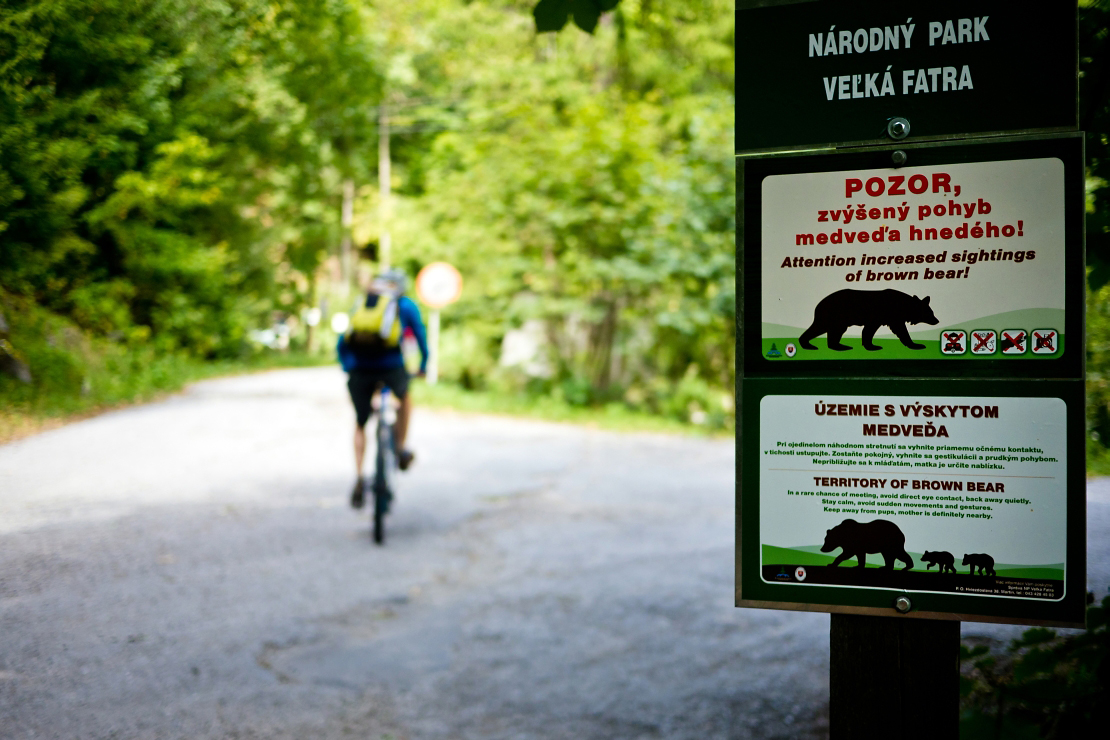 S Vladem jsme tento rok dokonale vyladili systĂ©m "náhlĂ˝ch vĂ˝padĹŻ" - jedna esemeska, veÄŤer na skype a druhĂ˝ den uĹľ valĂ­me do hor. StejnÄ› to bylo i tentokrát. Vlado jde v pondÄ›lĂ­ aĹľ na noÄŤnĂ­, já mám v kalendáři taky volno, tak proÄŤ sedÄ›t doma? Dohodnuto. V nedÄ›li po obÄ›dÄ› vyrážíme na hĹ™eben VelkĂ© Fatry. Cesty na vĂ˝chod se netĹ™eba bát - u Nitry najedete na ErJedniÄŤku a s nohou na plynu pohodlnÄ› valĂ­te aĹľ do BánskĂ© Bystrice. Pak zbĂ˝vá uĹľ jen kousek, projet DolnĂ˝m Harmancem a stojĂ­me na startovnĂ­m puntĂ­ku na začátku BystrickĂ© doliny. Je pozdnĂ­ odpoledne, ale to nás nemĹŻĹľe rozhodit. TÄ›snÄ› pod hĹ™ebenem na nás totiĹľ ÄŤeká teplá postel v horskĂ©m hotelu Král´ova StudĹ?a. Jdeme na to.
Info: VeÄľká Fatra s najvyšším bodom Ostredkom (1592 m) je šiestym najvyšším pohorĂ­m Slovenska. VýškovĂ© rozpätie oblasti od 400 m n. m. na Váhu pri SuÄŤanoch aĹľ po najvyššie ÄŤasti svedÄŤĂ­ o ÄŤlenitom povrchu. TĂşry v oblasti patria prevaĹľne medzi stredne ĹĄaĹľkĂ©. OblasĹĄ pokrĂ˝va bukovĂ˝, smrekovĂ˝, kosodrevinovĂ˝ a subalpĂ­nsky vegetaÄŤnĂ˝ stupeĹ?. HrebeĹ?ovĂ© partie VeÄľkej Fatry sĂş turisticky vyhÄľadávanĂ© pre hĂ´Äľny charakter (autor: Tomáš TrstenskĂ˝, Hiking.sk). ĂšzemĂ­ je od roku 2002 vyhlášeno národnĂ­m parkem, cyklistĂ© se tak na jeho ĂşzemĂ­ mohou pohybovat jen po oficiálnÄ› schválenĂ˝ch cyklotrasách.

Šlapeme sotva pár minut a už nás z cesty odvádí šipka k "vodným žlabom". Uplně nevíme, co si pod tím představit, takže malému zdržení se nebráníme ani chvíli. Pár set metrů a stojíme u posledního funkčního žlebu pro splavování dřeva ve střední Evropě s úctyhodnou délkou 2450 metrů. Vše vybudováno pouze ze dřeva, bez jakéhokoliv železného spojovacího materiálu. Respekt! To stálo za malou odbočku.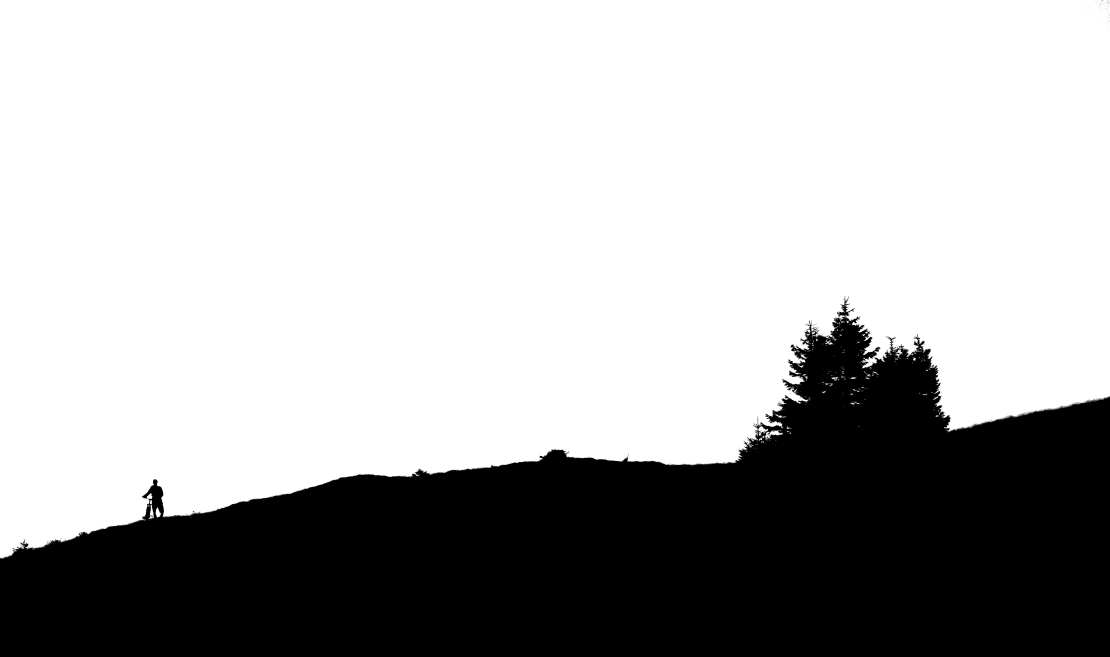 Po malé historicko-naučné odbočce se napojujeme zpět na naši žlutou značku šněrující Bystrickou dolinou směrem k hřebenu. Na lesní asfaltové cestě podezřele pohodlně nabíráme výškové metry, až je nám to divné. Za půlkou se asfaltka mění na rozbitou cestu plnou kamenů a balvanů, ale furt jde docela pěkně jet. Někde jsme četli, že je to nejsnazší nástup na hřeben, a asi to bude i pravda - normálně nás ty výškové metry bolí mnohem víc. Konečně stojíme na hřebenu. Výškoměr ukazuje 1300 metrů, slunce právě zapadá za horizont a v chatě už se na nás těší večeře. A my na ni.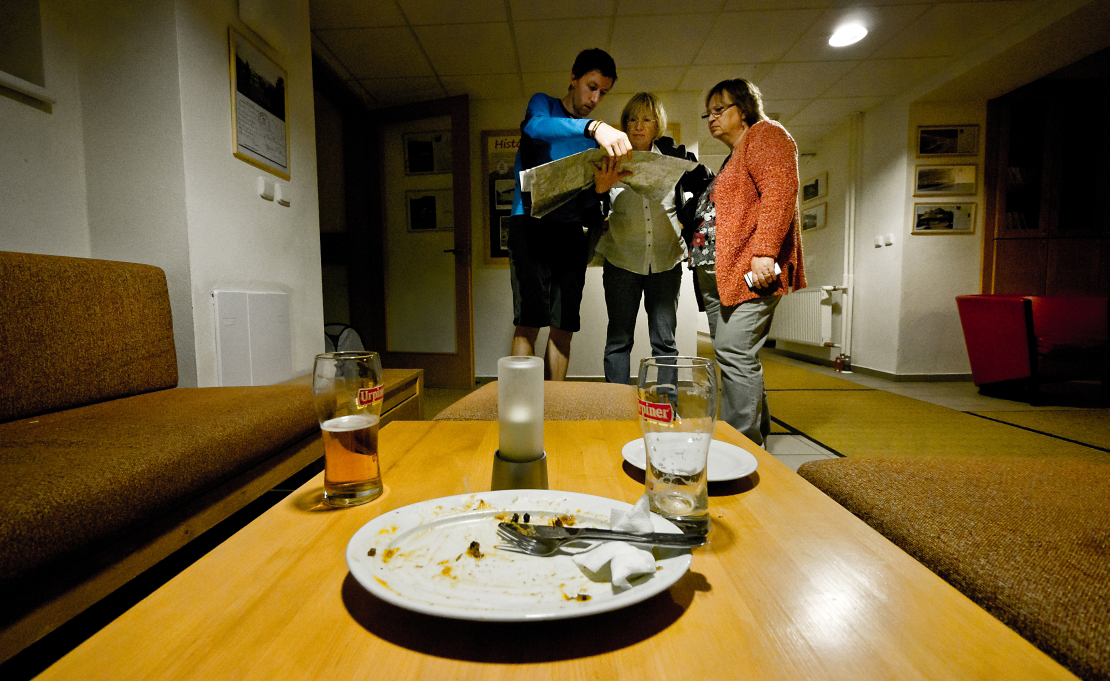 V hotelu mají teplé jídlo i studené pivo. A když máte dobrý den, můžete vzít mapu, nahodit výraz drsného bikera a nezávazně zaflirtovat s kočičkama na podnikové rekreaci.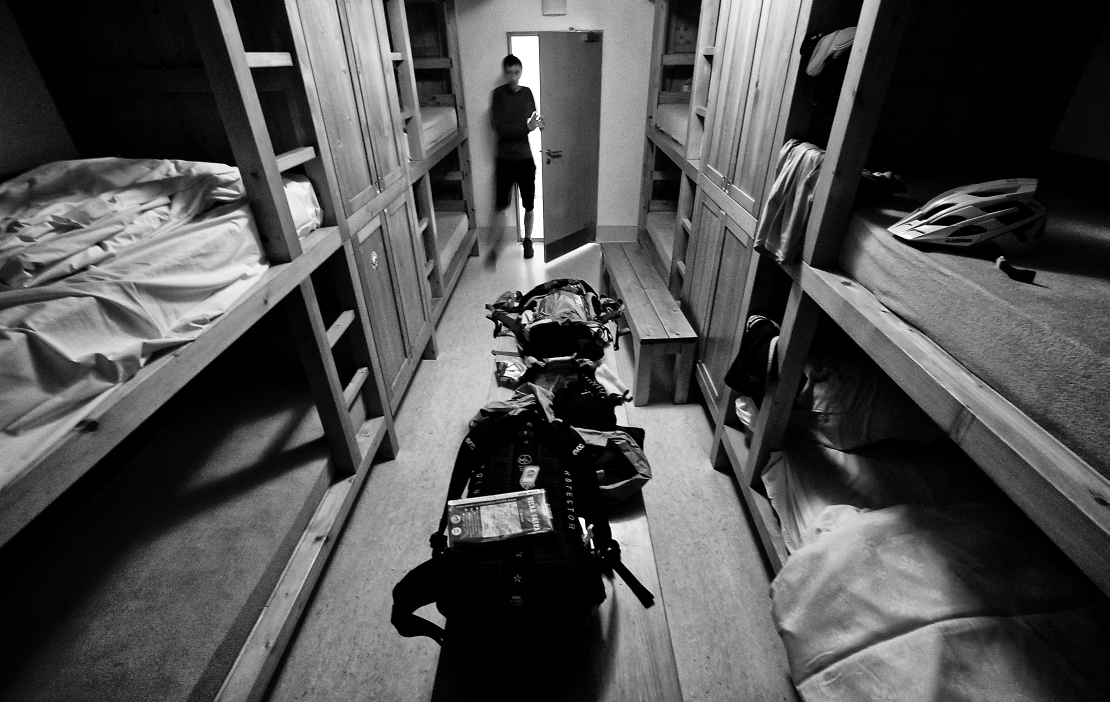 Moc jsme toho dnes nenajeli, ale do postele se i tak těšíme. Na výběr jsme měli hotelový pokoj, apartmán, trochu stísněný turistický pokojík nebo místo na stanování za hotelem. Volíme předposlední možnost, ještě u patrových postelí trochu zavzpomínáme na dětství a jdeme spát.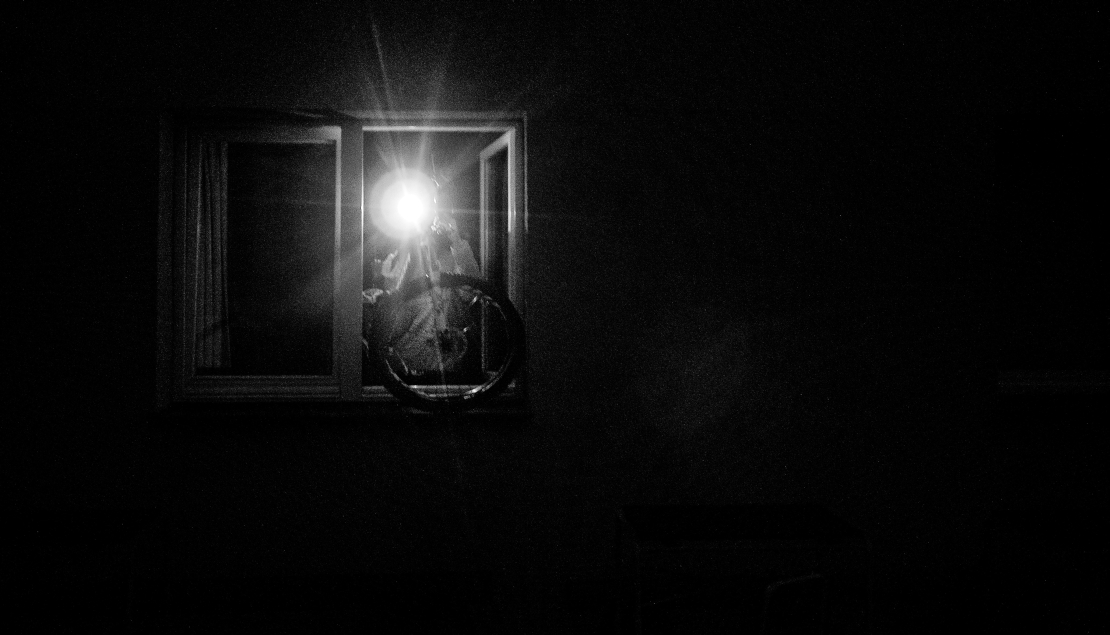 Ráno chceme stihnout východ slunce přímo na hřebenu. Ale máme tu malý problém - recepční na nás zapomněl. Večer jsme se domluvili, že nám nechá otevřený zadní vchod, kterým proklouzneme do studené tmy. Ten je teď ale zamčený. Co se dá dělat. Zaplaceno máme. Jde se oknem.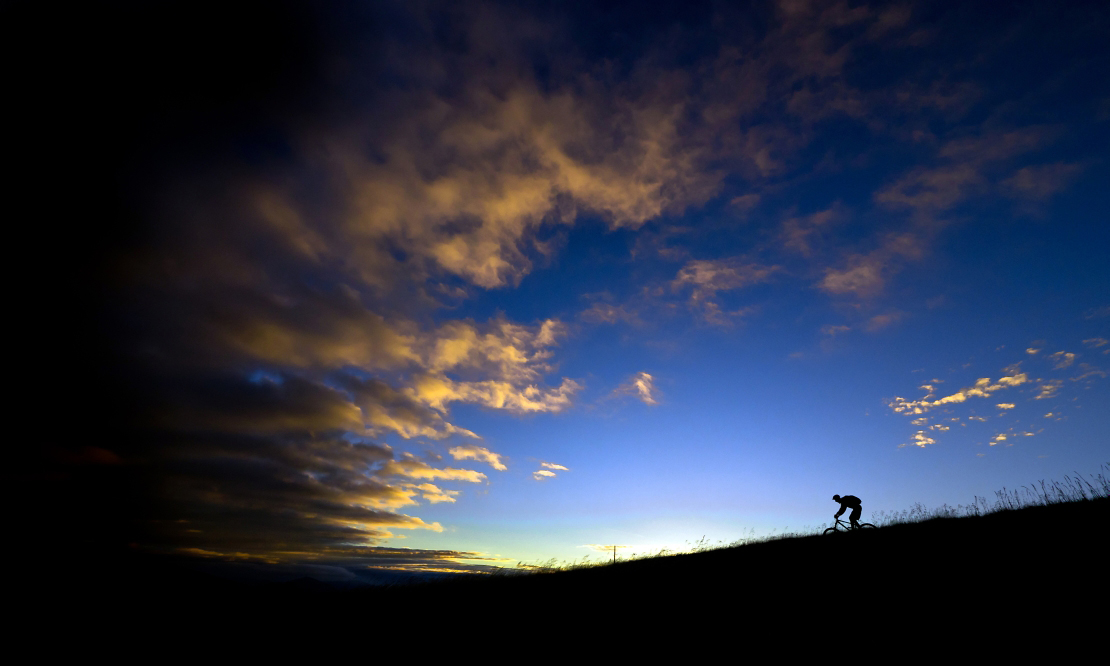 Ty rána jsou stejně ze všeho nejlepší. Noc pomaličku vytláčí barevný rozbřesk. Slunce se odhodlává vyhoupnout nad naše hlavy a před námi se rozjíždí nádherný hřeben Velké Fatry.
Od chaty míříme přímo na KrĂ­Ĺľnou - 1574 metrĹŻ vysokĂ˝, oblĂ˝, holĂ˝ kopec sebevÄ›domÄ› dominujĂ­cĂ­ jiĹľnĂ­ části VelkĂ© Fatry. Ĺ?Ă­ká se, Ĺľe i kdyĹľ bude na celĂ©m hĹ™ebenu takovĂ˝ klid, Ĺľe se nepohne ani lĂ­stek, na KrĂ­Ĺľnej bude stejnÄ› řádit vĂ­tr, kterĂ˝ vás bude chtĂ­t odfouknout zpátky do ĂşdolĂ­. PrávÄ› pĹ™es KrĂ­Ĺľnou totiĹľ směřuje pĹ™irozenĂ˝ koridor vedoucĂ­ vzdušnĂ© masy z jednĂ© strany hĹ™ebene na druhou. A tak hora dostala i svĂ© jmĂ©no, protoĹľe od nepamÄ›ti "na KrĂ­Ĺľnej krĂ­Ĺľne vetry dujĂş". Od chaty je to necelĂ© 4 kilometry a 300 výškovĂ˝ch. VÄ›tšinou jde po kamenitĂ© cestÄ› jet, chvĂ­li je sklon na nás uĹľ moc prudkĂ˝. Po ránu se aspoĹ? zahĹ™ejeme.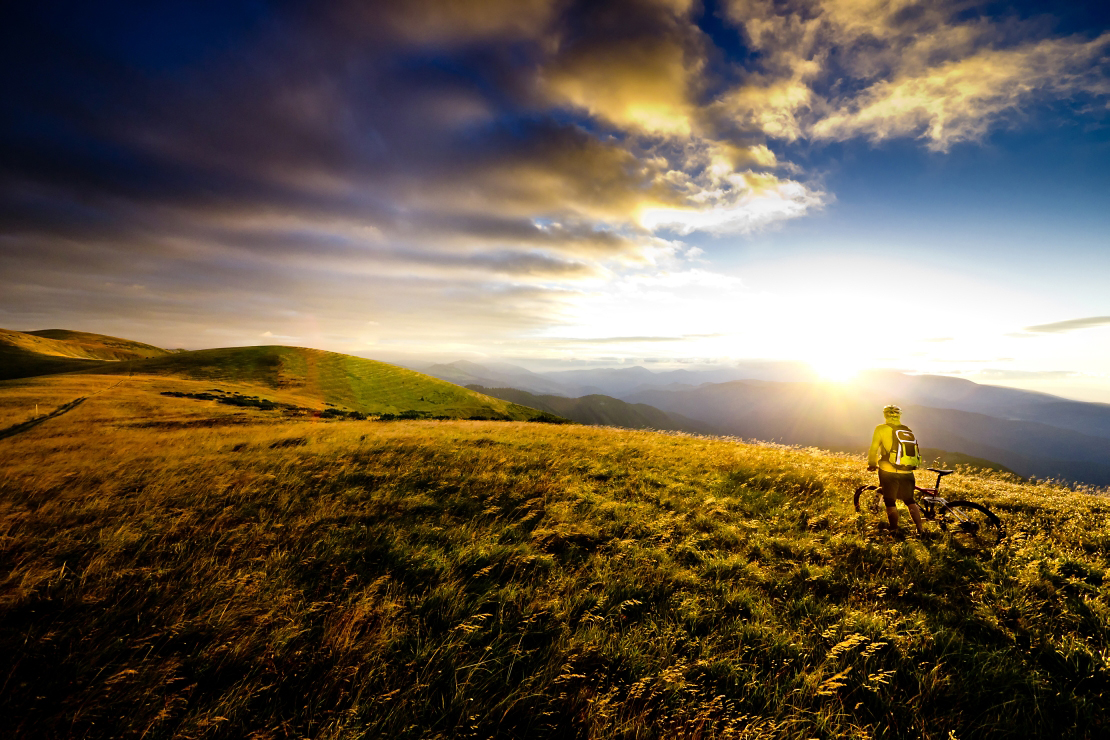 A jsme tady. Vítr usilovně hobluje vysokou trávu i naše tváře, slunce se právě vyšvihlo nad hradbu Nízkých Tater a hned se pustilo do přetahované s mraky nad našimi hlavami. Úžasná podívaná jako vždycky. To nikdy neomrzí.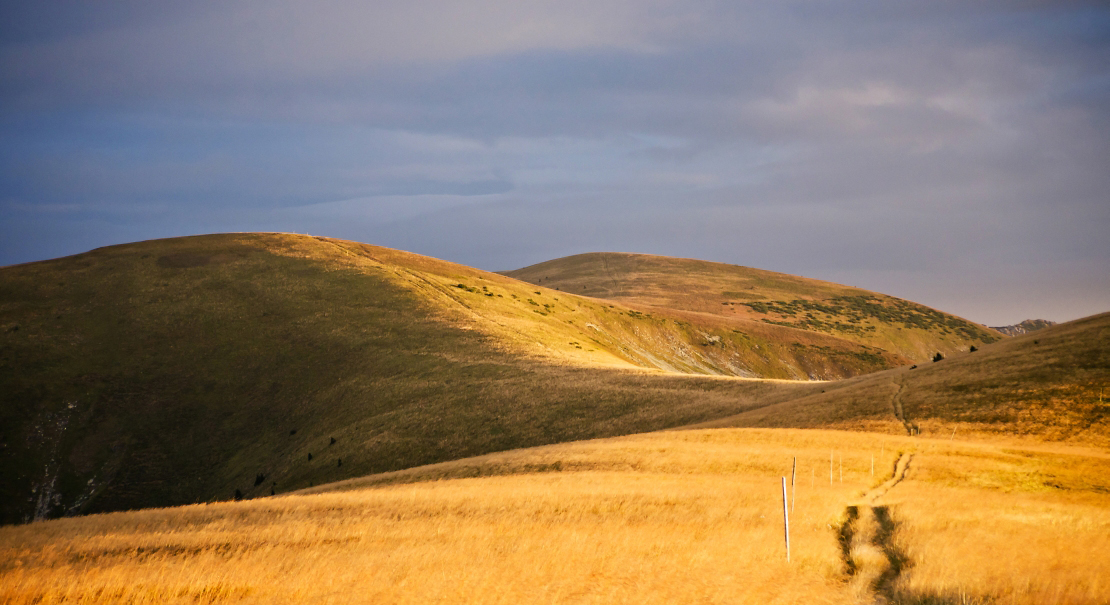 Přírodního kina jsme se už nabažili, a tak je před námi pokračování - krátký úsek po hřebeni a cesta do údolí. Na sever od Krížnej pokračuje hlavní hřeben Fatry, přímo k nejvyššímu bodu pohoří Ostredku s 1592 metry. Vypadá fakt lákavě, ale pokud sedláte kolo, tudy cesta nevede. Pravidla národního parku jsou striktní - cyklisti jen po cyklotrasách. Už tak je skoro zázrak, že tu měl někdo tolik rozumu a pustil cyklisty v národním parku i mimo asfaltky a dokonce až na hřeben.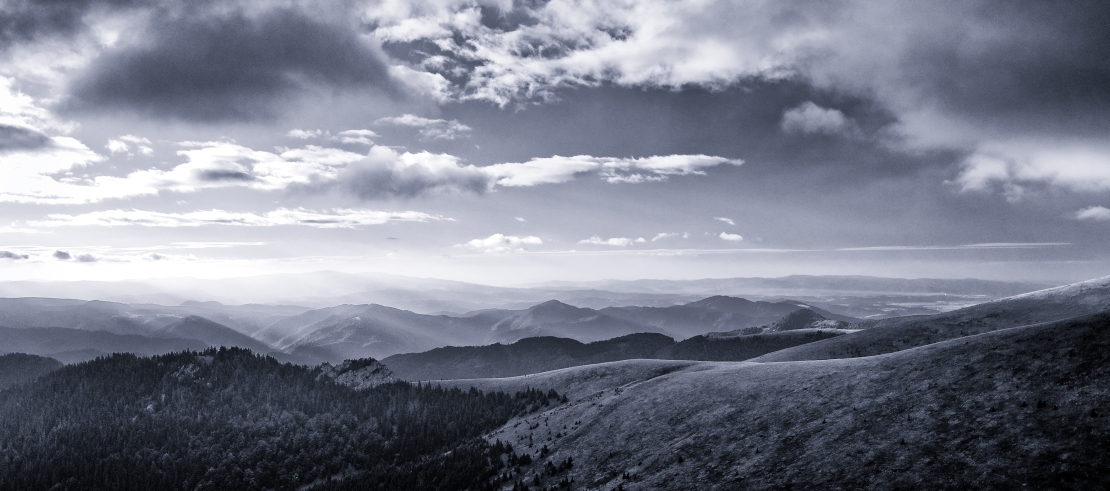 Naše cyklotrasa se od hlavního hřebene stáčí na druhou stranu. A ani ta nevypadá vůbec zle!


Z Krížnej vás nakopne sto výškových a rychle se prohoupete typickými velkofatranskými holinami až na Líšku.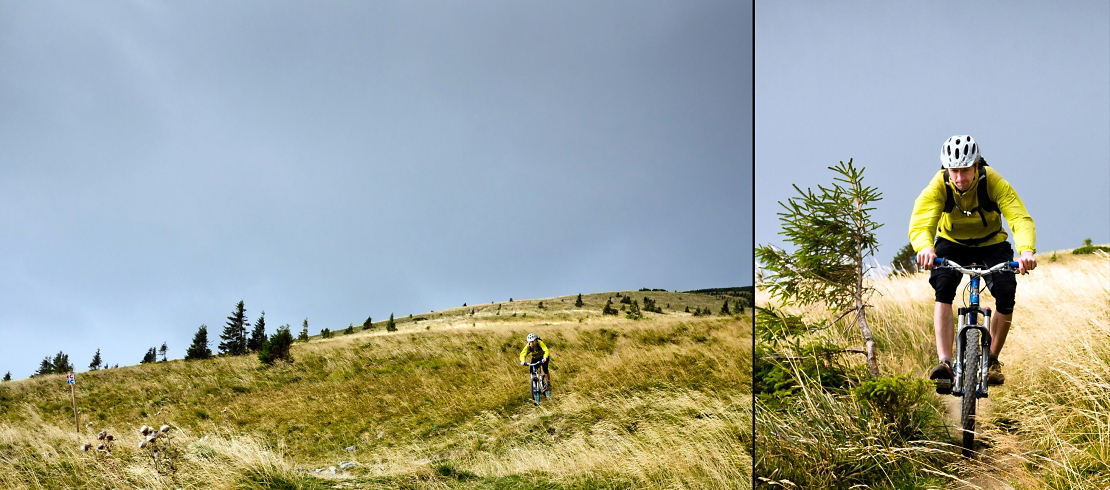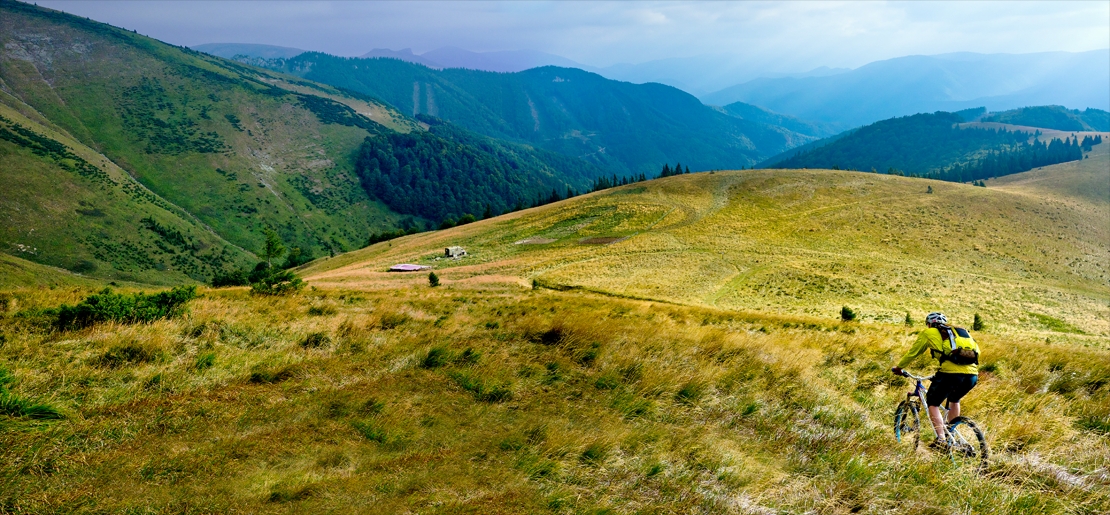 Cesta bez větších rozpaků recykluje drahocenné výškové metry, naši předchozí dřinu ale hory velkoryse kompenzují parádními výhledy. Ty umí Velká Fatra fakt skvostně.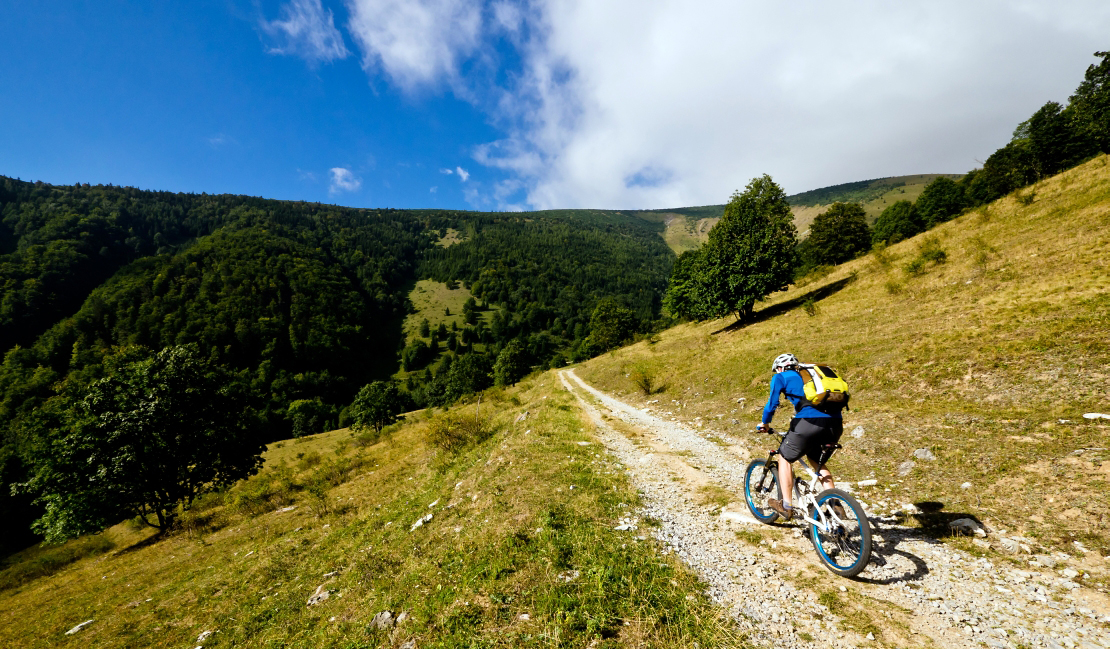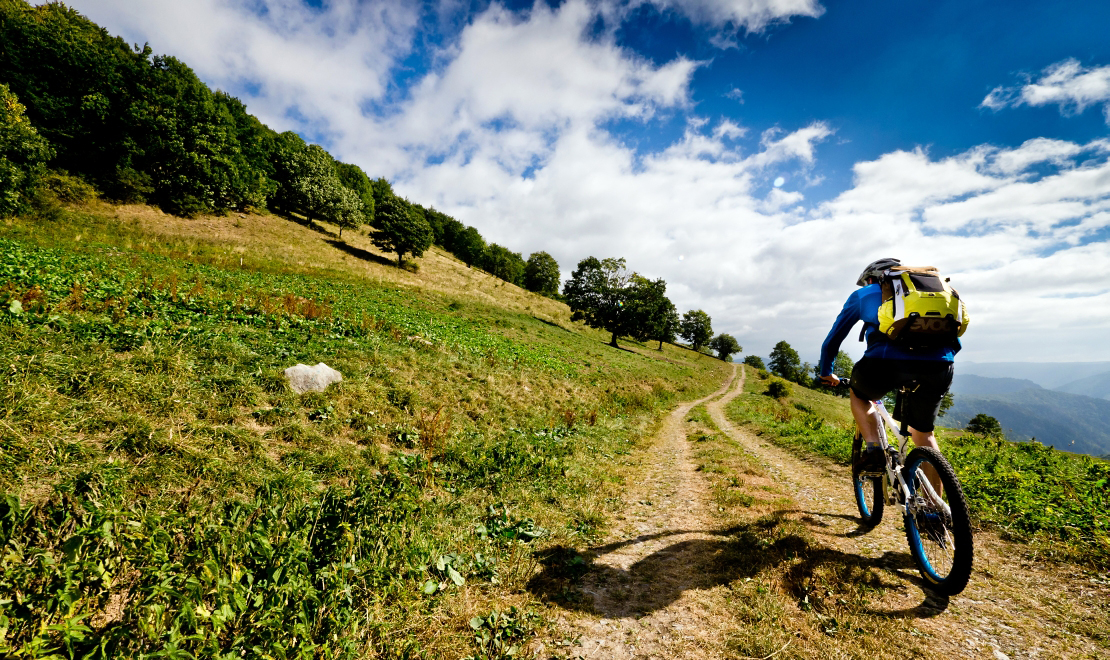 Pod hřebenem nás cyklotrasa už posílá na klasickou cestu, která nás motá úbočím údolí pod Majerovou skálou. Vlado sice moje nadšení usilovně mírní, ale mě ta cesta přijde prostě esteticky dokonalá - bílá linka se jemně vlní v zeleném svahu s rozesetými solitéry - óóó.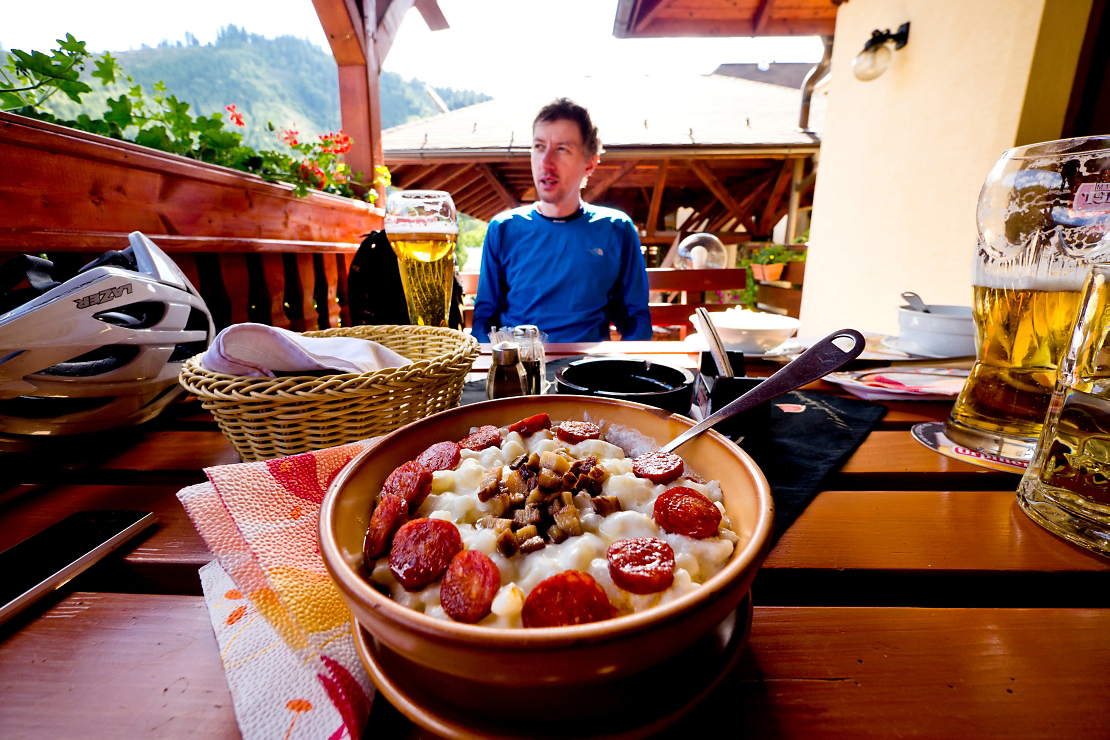 A hotovo. Už stačí jen trochu popojet a sedíme v restauraci v malé hornické vesničce Staré Hory. Vyhladovělí jsme jak vlci. Naštěstí se před námi během chvilky vyjímá zasloužený oběd, co jiného než halušky s bryndzou.
Naše rychlá výprava na hřeben Velké Fatry je u konce. Byla to jasná paráda, jedna z nejpěknějších lokalit letošního roku. K tomu si připočítejte bonus radosti z toho, že existuje národní park, kde cyklisty pustí i mimo asfalt a až na hřeben. Moc dobře ale víme, že jsme viděli jen kousíček. Fatra si zaslouží daleko důkladnější průzkum. Až sleze sníh, jdeme na to.