NA STEZK├?CH VALA┼áSK├ëHO KR├?LOVSTV├Ź
Den 1 - Marikovsk├ę Trail Dorado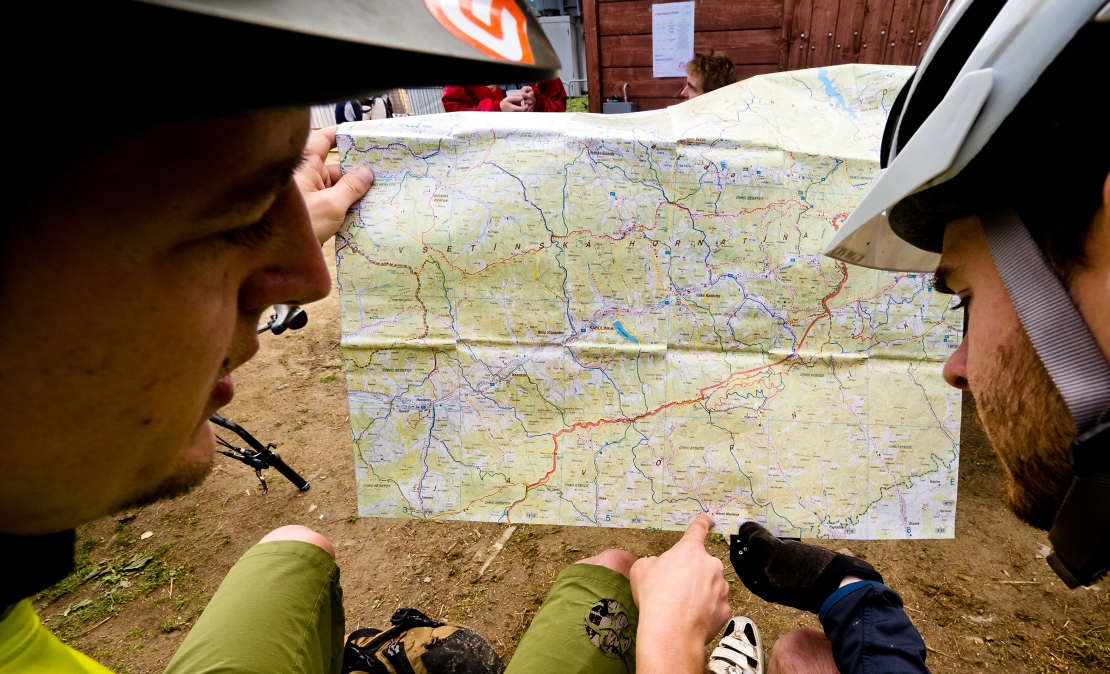 Za projektem Specialized Bike Resortu Vala┼ísko stoj├ş Lubo┼í Su┼íila, kter├Ż z pra┼żsk├ę redakce magaz├şnu o ly┼żov├ín├ş utekl za kolem na Vala┼ísko. Ale nebyl to pra┼żsk├Ż exodus v prav├ęm slova smyslu. N├ívrat k moravsk├Żm ko┼Öen┼»m prozrazuje fakt, ┼że v drsn├ęm p┼Ö├şhrani─Źn├şm kraji p┼Öe┼żil u┼ż t┼Öi zimy. Kdy┼ż jsme vyrazili prozkoumat vala┼ísk├ę traily a stezky, domluva s Lubo┼íem byla jasn├í volba. Sraz jsme si dali ve Velk├Żch Karlovic├şch, kter├ę jsou turistick├Żm centrem kraje. Najdete tu luxusn├ş hotely i mali─Źk├ę rodinn├ę penziony, hospody, taky nov├Ż bike park Ky─Źerka i v├Żborn├ę v├Żchoz├ş m├şsto pro n├ístup na bikov├ę trasy. Lubo┼í n├ím v map─Ť trp─Ťliv─Ť ukazuje mo┼żnosti na┼íeho dne┼ín├şho bikov├ín├ş, chv├şli ho nech├ív├íme sna┼żit a pak si samoz┼Öejm─Ť vol├şme to nejlep┼í├ş z jeho nab├şdky - Marikovsk├ę Trail Dorado - p┼Öibli┼żn─Ť 30 kilometrov├Ż okruh padaj├şc├ş od Port├í┼íe na slovenskou stranu h┼Öebene, pln├Ż technick├Żch ├║sek┼» i klidn─Ťj┼í├şch lesn├şch p┼Öejezd┼» a p┼Öedev┼í├şm s dlouh├Żm ├║sekem star├ęho loveck├ęho chodn├şku.

To zn├ş dob┼Öe, ne? Tak jde se na to. S Honzou m├íme za sebou pracovn├ş t├Żden u po─Ź├şta─Źe a ani jeden u┼ż ani nepamatujeme, kdy jsme naposled sed─Ťli na kole. Start v bike parku Ky─Źerka tak p┼Öich├íz├ş vhod. Vlek n├ís za ┼Öid├ştka pohodln─Ť vytahuje na kopec, rychl├í kontrola v├Żhled┼» a u┼ż se p┼Öed n├ími klikat├ş t┼Öi lajny. Modr├Ż nejleh─Ź├ş a nejdel┼í├ş (1333 m), ─Źerven├Ż st┼Öedn├ş, ─Źern├Ż nejt─Ť┼ż┼í├ş a nejkrat┼í├ş (980 m). Zkou┼í├şme v┼íechny a shodujeme se, ┼że modr├Ż je nejz├íbavn─Ťj┼í├ş. Cel├Ż v├şkend tu asi nestr├ív├şte, ale na rychl├ę rozje┼żd─Ťn├ş jako d─Ťlan├ę. Bude pot┼Öeba.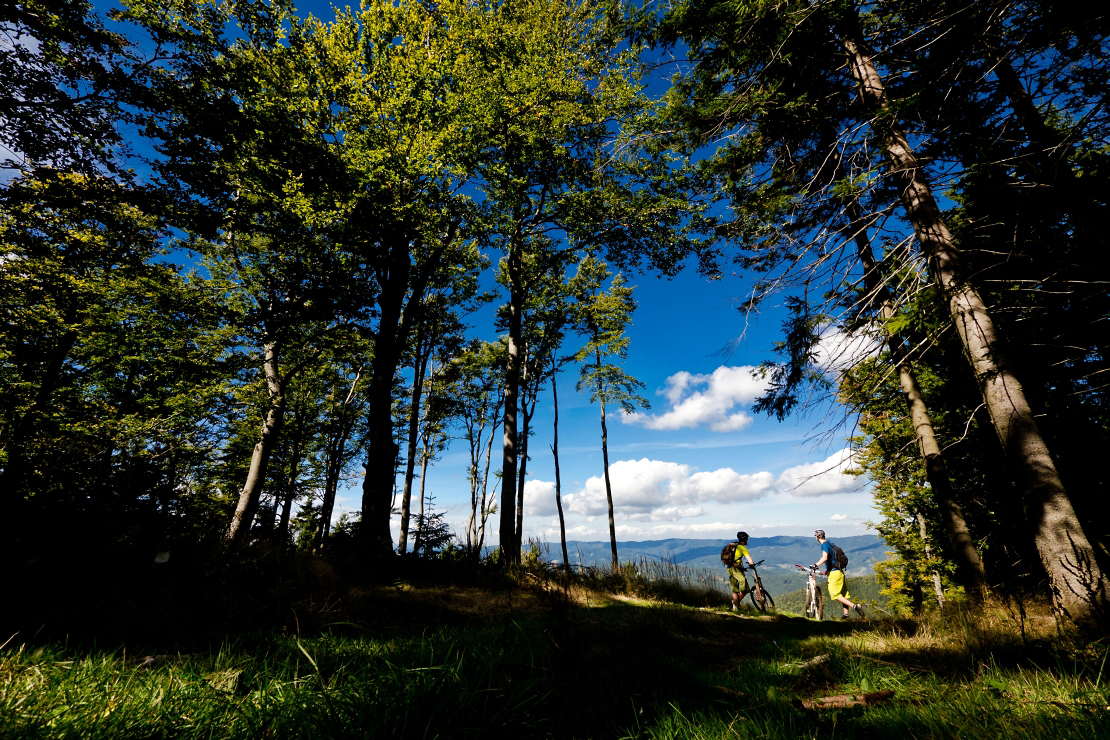 Hned za Ky─Źerkou se u┼ż zvedaj├ş prvn├ş kope─Źky. Ehm. Po┼Ö├ídn├ę kopce jsou to. P─Ťkn─Ť zostra. Nahoru a dol┼». Ani na chv├şli n├ím nenech├ívaj├ş vydechnout. Kdy┼ż Lubo┼í po p┼»lhodince ┼ílap├ín├ş ukazuje na malou vyhl├şdku, jsme r├ídi, ┼że m┼»┼żeme na chv├şli zastavit a odpo─Źinout.


Ale je to zaslou┼żen├í zast├ívka. P┼Öed n├ími se v pln├ę kr├íse otv├şr├í v├Żhled na typickou vala┼ískou krajinu. Hlubok├ę ├║dol├ş─Źka, hust├ę lesy roztrhan├ę pastvinami, v┼íe dozdoben├ę st┼Öechami mal├Żch usedlost├ş. A v dohledu ┼ż├ídn├í modern├ş civilizace. Tak to m├íme r├ídi.

WikiInfo: Pojmenov├ín├ş Valach je slovansk├Żmi jazyky p┼Öejat├ę slovo Walhs p┼»vodn─Ť germ├ínsk├ęho p┼»vodu, pou┼ż├şvan├ę starov─Ťk├Żmi G├│ty pro pojmenov├ín├ş Kelt┼», romanizovan├Żch Kelt┼» a rom├ínsk├Żmi jazyky mluv├şc├şch n├írod┼». Na Moravu se Vala┼íi dostali p┼Öi vala┼ísk├ę kolonizaci prob├şhaj├şc├ş od 14. do 17. stolet├ş. Vala┼ísk├ę past├Ż┼Ösk├ę kmeny migrovaly z oblasti dne┼ín├şho ji┼żn├şho Rumunska pod├ęl karpatsk├ęho oblouku sm─Ťrem na z├ípad.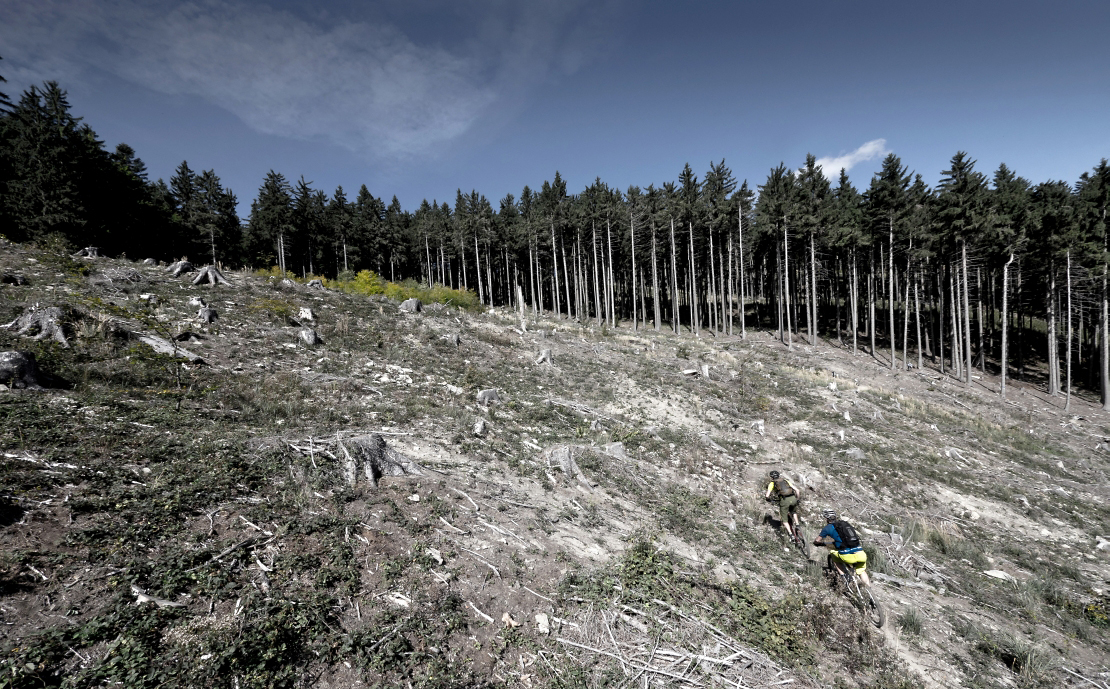 Lubo┼í n├ís d├íl spolehliv─Ť vede labyrintem vala┼ísk├Żch hor a┼ż na h┼Öeben - zat├şmco jeho ─Źesk├í strana je relativn─Ť civilizovan├í a m├şrn─Ťj┼í├ş, slovensk├ę svahy hor jsou o pozn├ín├ş drsn─Ťj┼í├ş. U Port├í┼íe, po dal┼í├ş divok├ę s├ęrii kopc┼» nahoru a dol┼», si m┼»┼żete d├ít ob─Ťd v horsk├ęm hotelu. My ale nem├íme ─Źasu nazbyt, a tak opou┼ít├şme h┼Öeben, napojujeme se na okruh Trail Dorada a po kr├ítk├ęm sjezdu jsme u Lubo┼íovy chlouby. P┼Öed n├ími je toti┼ż Marikovsk├Ż singl├í─Ź, kter├Ż dostal jm├ęno podle dlouh├ęho ├║dol├ş prod├şraj├şc├şho se k V├íhu, v jeho┼ż svaz├şch je za┼Ö├şznut├Ż. Je to star├Ż loveck├Ż chodn├şk, kter├Ż objevil m├şstn├ş bikov├Ż guru Tony Podstransk├Ż a s kamar├ídy ho dok├ízali vysekat z divok├ę vegetace. M├Żtinu na fotce samoz┼Öejm─Ť na sv─Ťdom├ş nem├í:)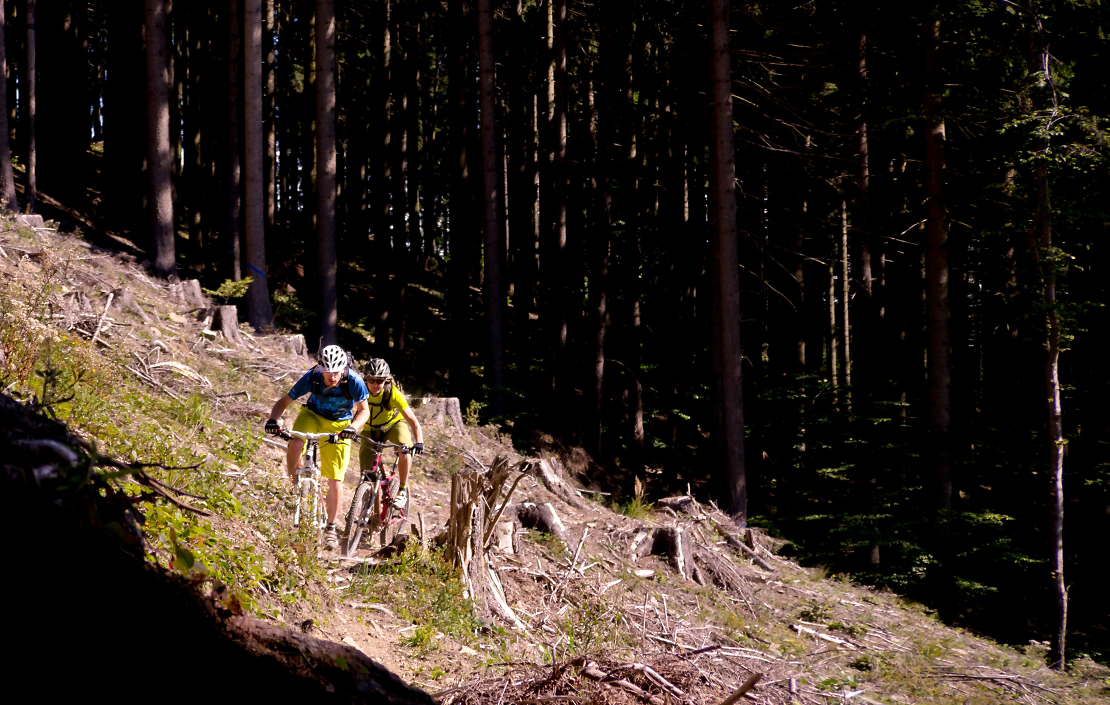 Singl├í─Ź sice vede ve vrstevnici, ale ne─Źekejte ┼ż├ídnou proch├ízku r┼»┼żov├Żm sadem. Va┼íimi nejlep┼í├şmi kamar├ídy tu budou ┼íutry a ko┼Öeny. M├şsty v opravdu prudk├ęm svahu. Jedna chyba a kut├íl├şte se a┼ż do V├ínoc.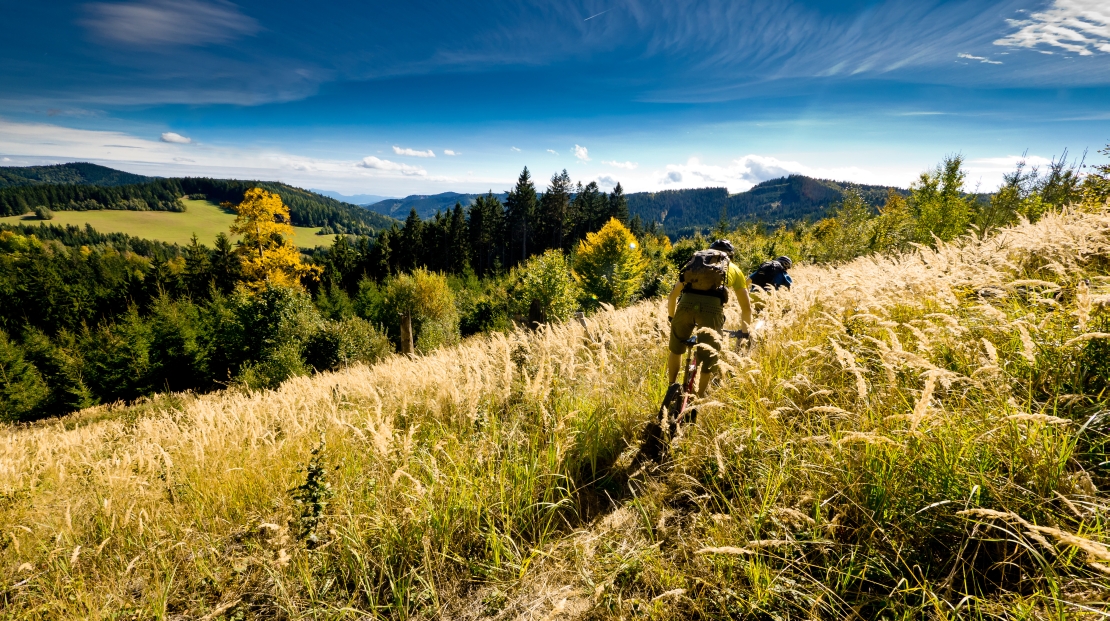 ┼?├şzn├Ż trail p─Ťkn─Ť m─Ťn├ş charakter - chv├şli balancujeme v ostr├ęm svahu, chv├şli na to svi┼ít├şme po podzimn─Ť se barv├şc├şch louk├ích, nakonec se prod├şrme hust├Żm podrostem. Do toho p┼Öich├íz├ş v├Żhledy, kter├ę ├║─Źinn─Ť sr├í┼ż├ş, u┼ż tak dost zoufalou, pr┼»m─Ťrnou rychlost na┼í├ş vyj├ş┼ż─Ćky.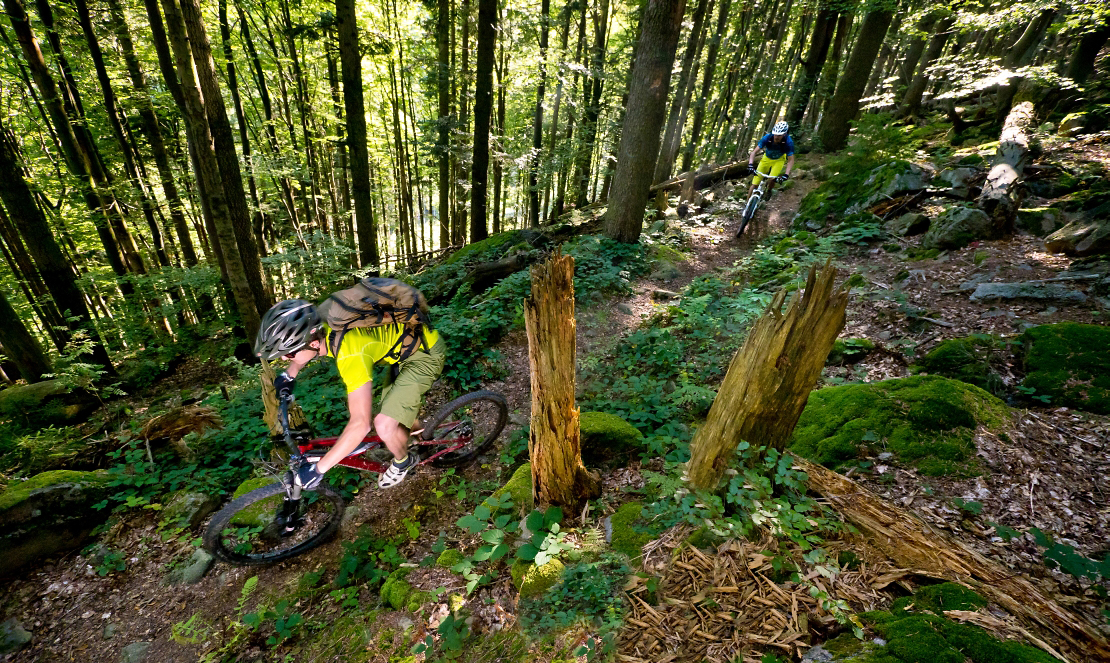 N─Ťkter├ę ├║seky jsou fakt v├Żstavn├ş. K tomu nen├ş ani co dod├ívat.


Jin├ę jsou drsn├ę jak kanadsk├Ż d┼Öevorubec v nejlep┼í├şch letech. Nic pro sle─Źinky. Je to tvrd├Ż "p┼Ö├şrodn├ş" trail, kter├Ż nen├ş pro ka┼żd├ęho. Kolo mus├şte m├şt fest v ruce, abyste si u┼żili.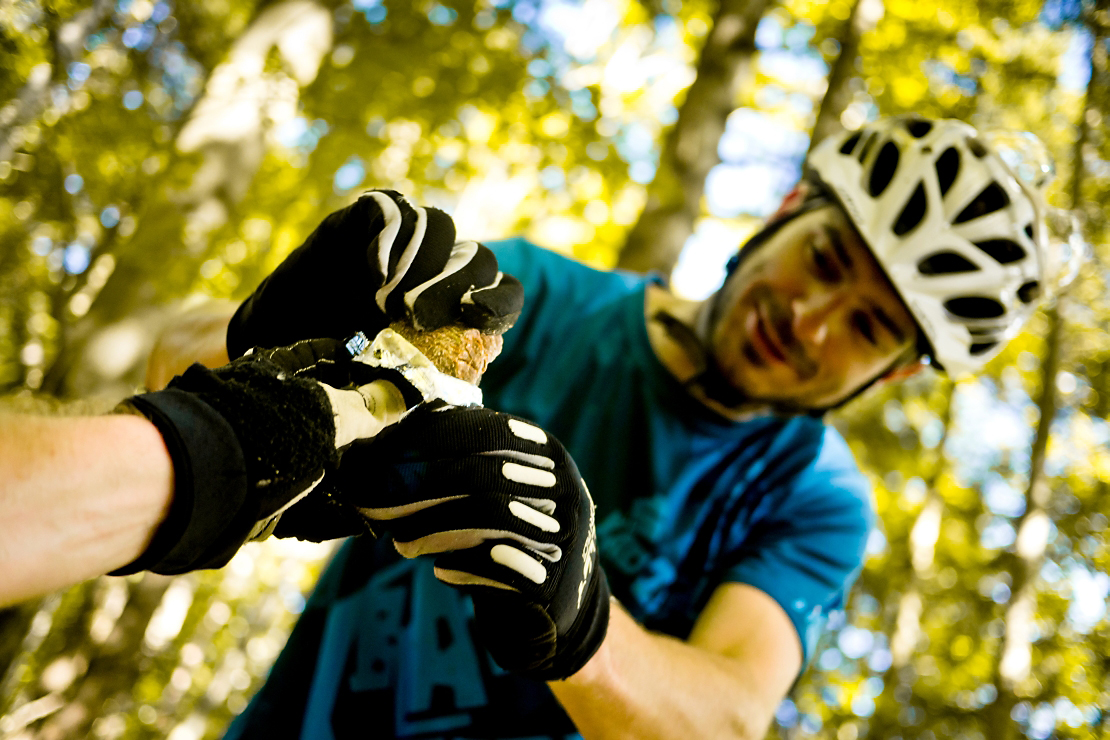 Nen├ş divu, ┼że Honzovi vyhl├ídlo. Co ─Źert necht─Ťl, trochu n├ím zask┼Ö├şpala logistika. Jeho batoh je pr├ízdn├Ż, stejn─Ť jako jeho ┼żaludek. Na┼ít─Ťst├ş situaci zachra┼?uje moje ┼żelezn├í z├ísoba. Co na tom, ┼że v batohu u┼ż d├ívno pro┼ívihla dobu spot┼Öeby. Hlad je nejlep┼í├ş kucha┼Ö.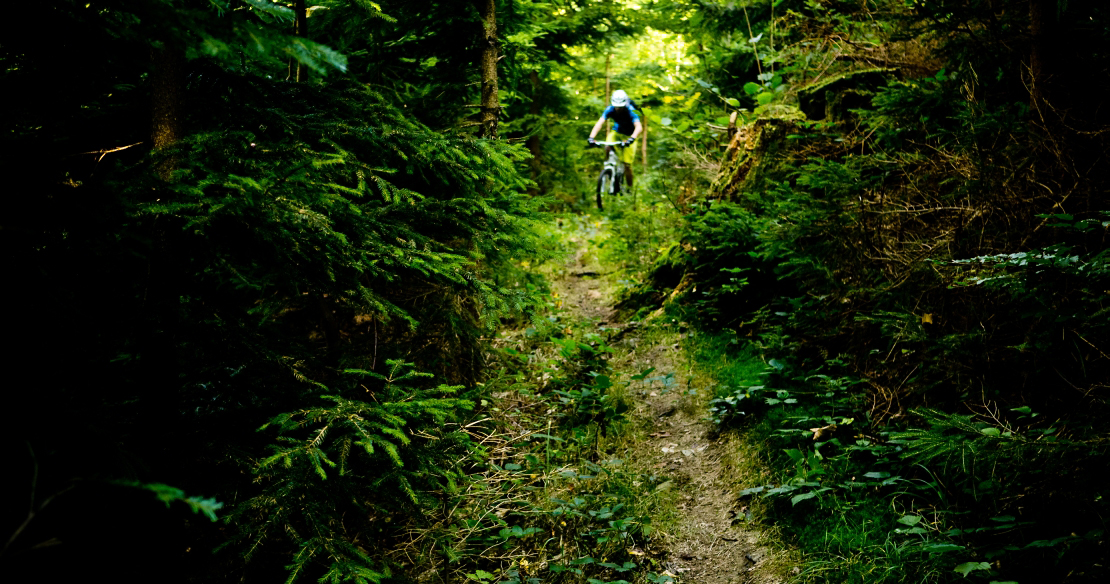 T─Ť┼żko ┼Ö├şct jak jsme to jeli d├íl. Kdy┼ż jedete s pr┼»vodcem, orienta─Źn├ş smysl jako by se automaticky vypnul, naplno ┼ílapete a sledujete jen trail p┼Öed v├ími. Stezka, lesn├ş cesty, kousek asfaltu, nahoru a dol┼» a pak hodn─Ť-hodn─Ť nahoru. Asi tak n─Ťjak to bylo. Na Port├í┼íi si kone─Źn─Ť d├ív├íme zaslou┼żen├ę j├şdlo, n─Ťco mezi ob─Ťdem a ve─Źe┼Ö├ş. Stylov─Ť halu┼íky. Se slaninou. To jsme p┼Öesn─Ť pot┼Öebovali.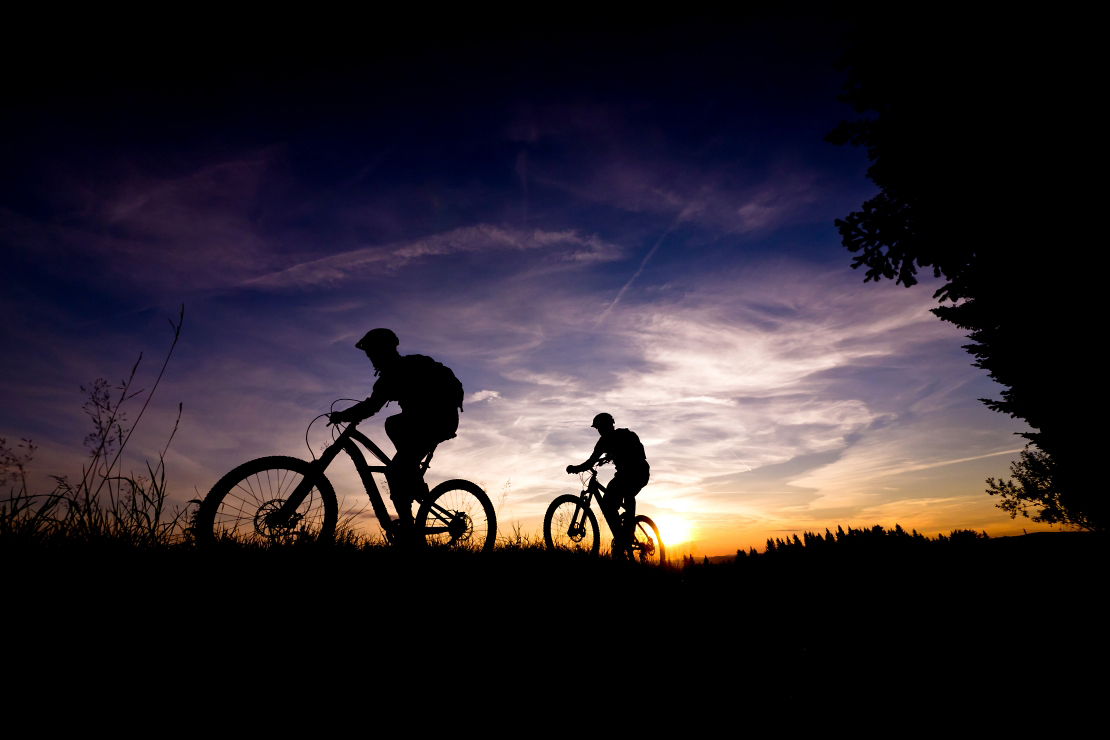 Den pomalu kon─Ź├ş a my po okruhu Marikovsk├ęho Trail Dorada projeli velk├Ż kus Javorn├şk┼». Te─Ć u┼ż op─Ťt po moc hezk├ęm h┼Öebeni p┼Öes Mal├Ż Javorn├şk rychle m├ş┼Ö├şme dom┼». Cesta nen├ş ani o trochu m├ş┼? ─Źlenit├í ne┼ż r├íno. Nahoru, dol┼». Za cel├Ż den toho u┼ż m├íme docela dost. Javorn├şky nejsou "jednoduch├ę" hory. Slunce pad├í dol┼», teplota pad├í dol┼» a nakonec na n├ís pad├í i tma. Ale prvn├ş den na Vala┼ísku pro n├ís je┼ít─Ť nekon─Ź├ş.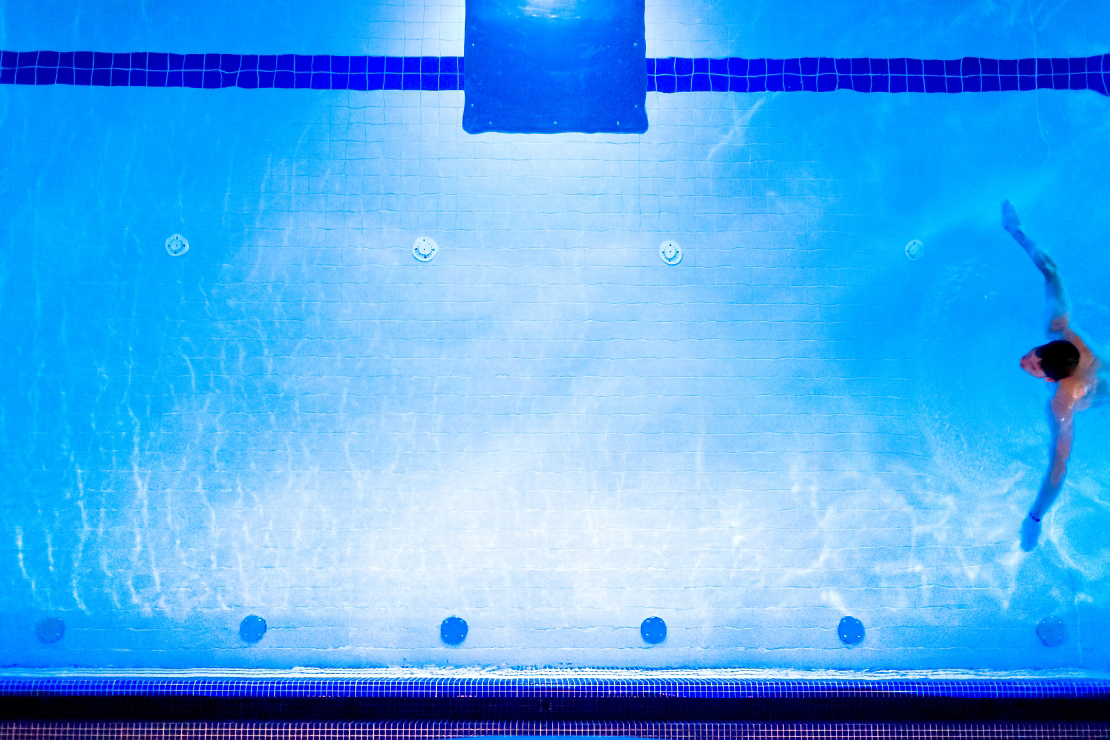 Na ┼Öad─Ť je toti┼ż regenarace. Ve wellnessu hotelu Horal na konci karlovick├ęho ├║dol├ş maj├ş toti┼ż baz├ęn, bublinky, saunu, p├íru...v┼íechno tam maj├ş...Takhle by m─Ťlo kon─Źit ka┼żd├ę bikov├ín├ş!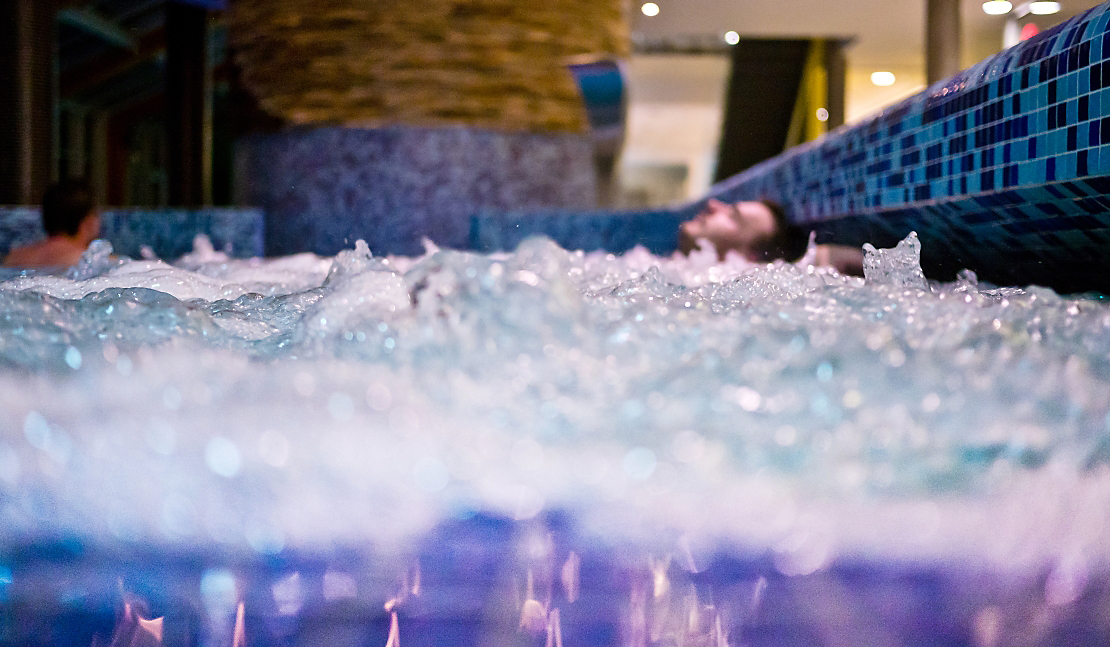 Ne vlastn─Ť takhle.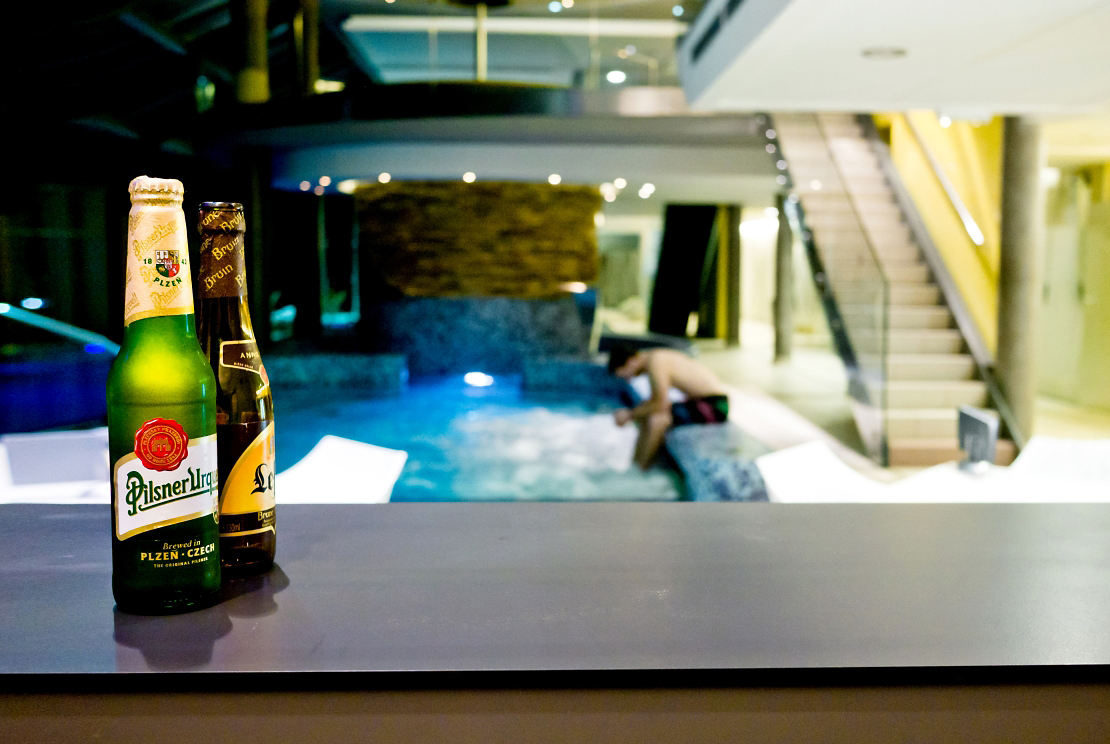 Takhle.

Den 2 - Miniokruh na Milo┼?ovou
Zat├şmco v─Źera jsme okusili tu drsn─Ťj┼í├ş ─Ź├íst vala┼ísk├ę nab├şdky, dnes m├íme ├║pln─Ť opa─Źn├Ż pl├ín. ─îasu nen├ş nazbyt, Honza mus├ş b├Żt u┼ż kolem poledne zase v pr├íci, tak┼że to chce n─Ťco mal├ęho a mil├ęho. Probl├ęm? Kdepak. Podle mapy si pl├ínujeme miniokruh kolem na┼íeho hotelu Gal├şk. P├ír kilometr┼» provon─Ťn├Żch podzimn├şm list├şm a rann├ş rosou, s vyle┼ít─Ťn├Żmi loukami a dalek├Żmi v├Żhledy. Bud├şk jsme sebemrska─Źsky nastavili u┼ż na p┼»l sedmou. Ale vst├ív├ín├ş n├ís po v─Źerej┼í├şm d┼»kladn├ęm vybublinkov├ín├ş skoro ani nebol├ş. Skoro.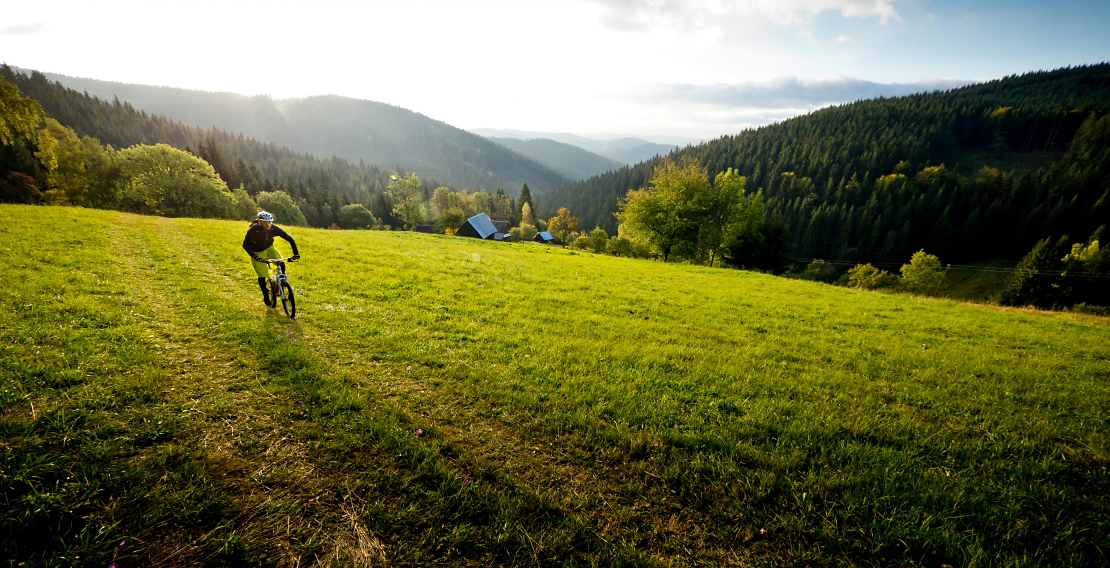 Sta─Ź├ş p├írkr├ít ┼íl├ípnout do ped├íl┼» a u┼ż se p┼Öed n├ími rozehr├ívaj├ş vala┼ísk├ę scen├ęrie v pln├ę par├íd─Ť. Louky, kope─Źky, ove─Źky, usedlosti. V┼íude kolem, kam se pod├şv├í┼í. Ani ti nep┼Öijde, ┼że ┼ílape┼í do kopce.

Slunce se sotva vydr├ípalo nad obzor, slepice pr├ív─Ť dostaly sn├şdani, na z├ípra┼ż├ş se su┼í├ş cibule na zimu a my val├şme do kopc┼».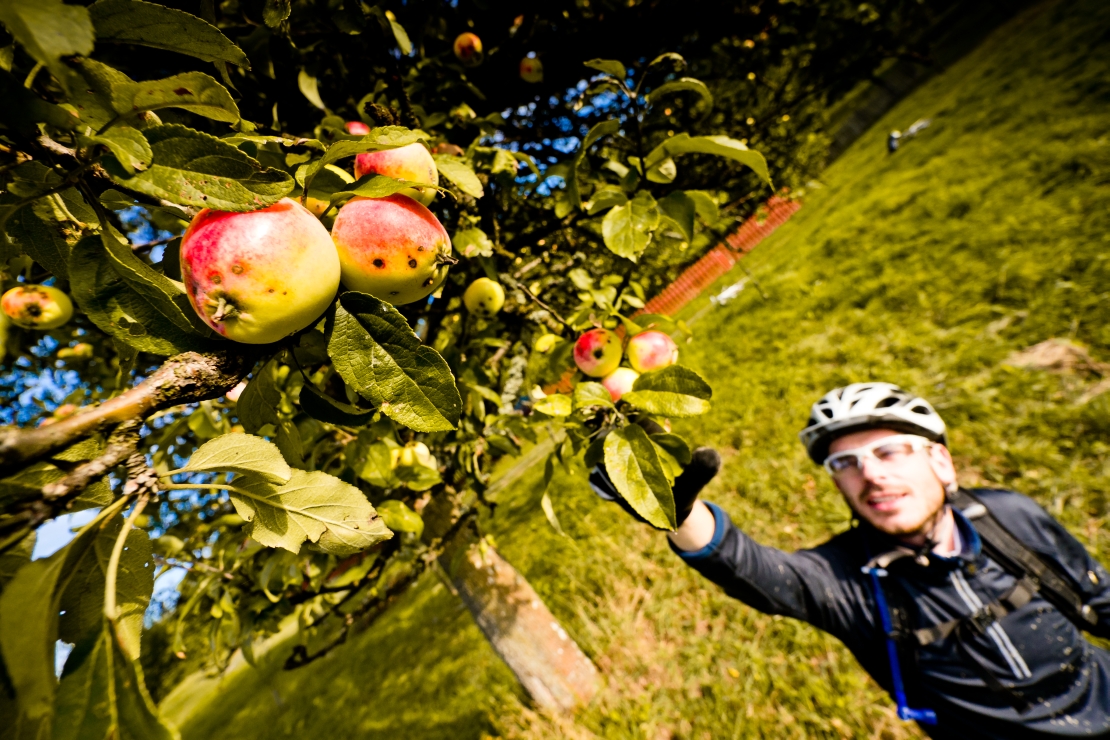 Proj├ş┼żd├şme kolem p├ír chalup na Jest┼Ö├íb├şm a za chv├şli jsme na rozcest├ş Pod Polanou. Jsme tu pr├ív─Ť v─Źas. Sn├şdan─Ť je u┼ż nachystan├í.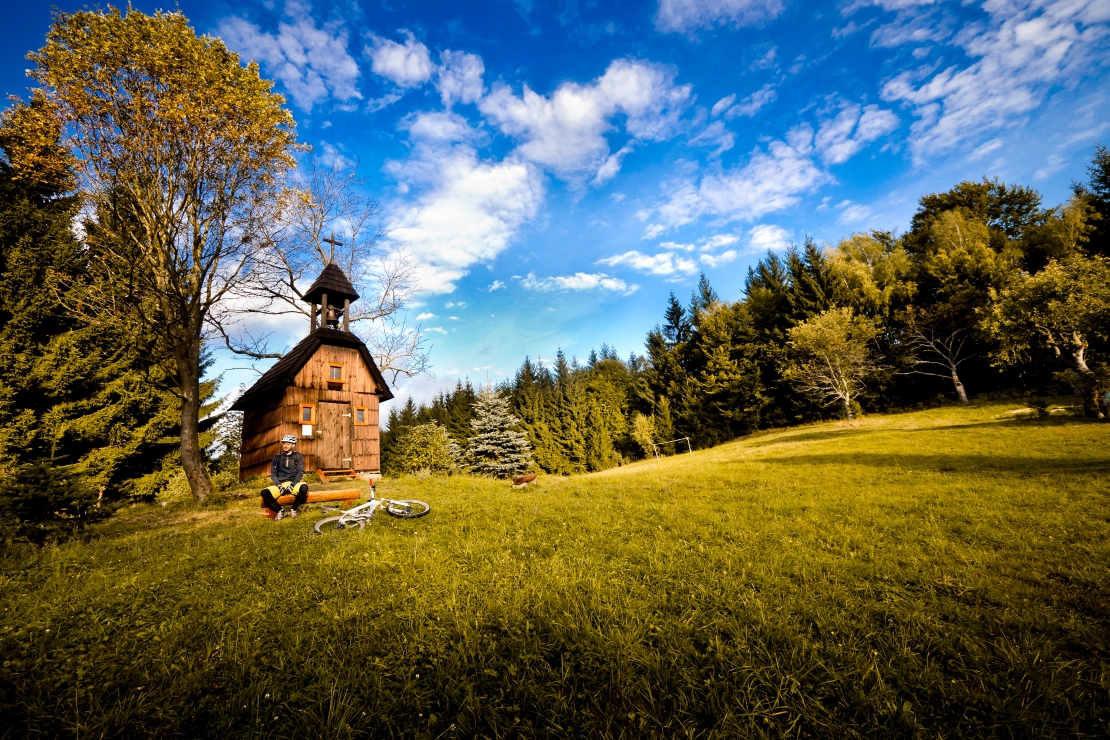 Na lavi─Źce p┼Öed d┼Öev─Ťnou kapli─Źkou se k ┼í┼ąavnat├Żm, pr├ív─Ť dozr├íl├Żm jabk┼»m odr┼»dy, kterou v hypermarketu nenajdete, dnes serv├şruj├ş skv─Ťl├ę v├Żhledy. Jin├ę tu ani neum├ş.

U┼ż n├ís ale zase hon├ş otravn├ę v├Żdobytky civilizace jako je pracovn├ş doba, ┼í├ęf a zam─Ťstnaneck├Ż pom─Ťr. ┼ávih├íme do ped├íl┼» a p┼Öes Milo┼?ovou se zbrusu novou rozhlednou fi─Ź├şme dol┼». V hotelu pr├ív─Ť rozn├í┼íej├ş sn├şdani. Rychle n─Ťco tepl├ęho do ┼żaludku a alou do pr├íce!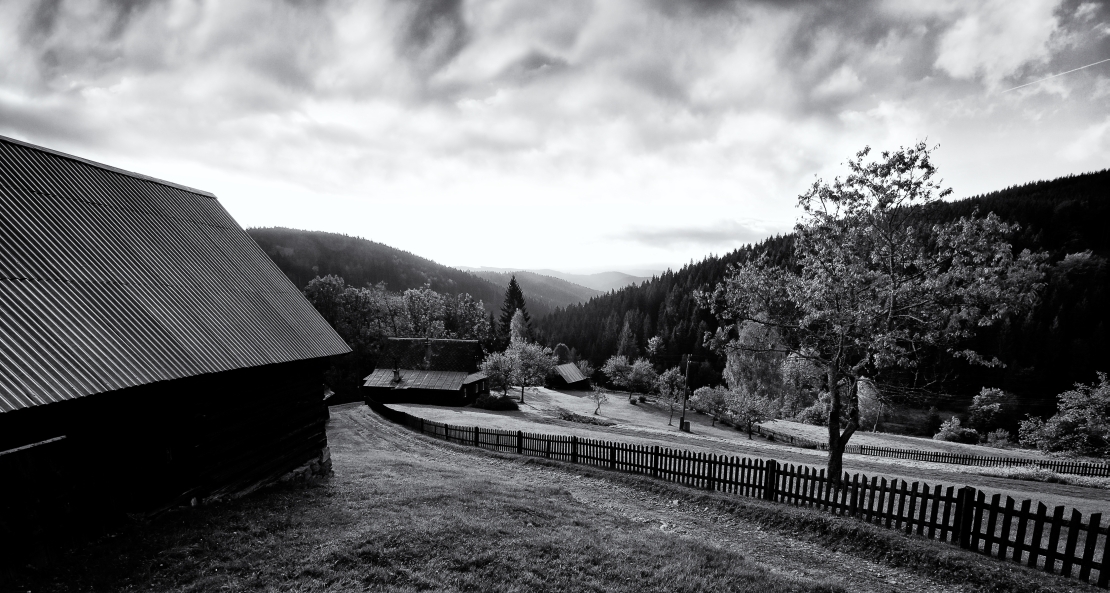 Jojo. Na Vala┼ísku bylo kr├ísn─Ť. Co v├ím budeme pov├şdat.