POLANA: NA H┼?EBENU SLOVENSK├ë SOPKY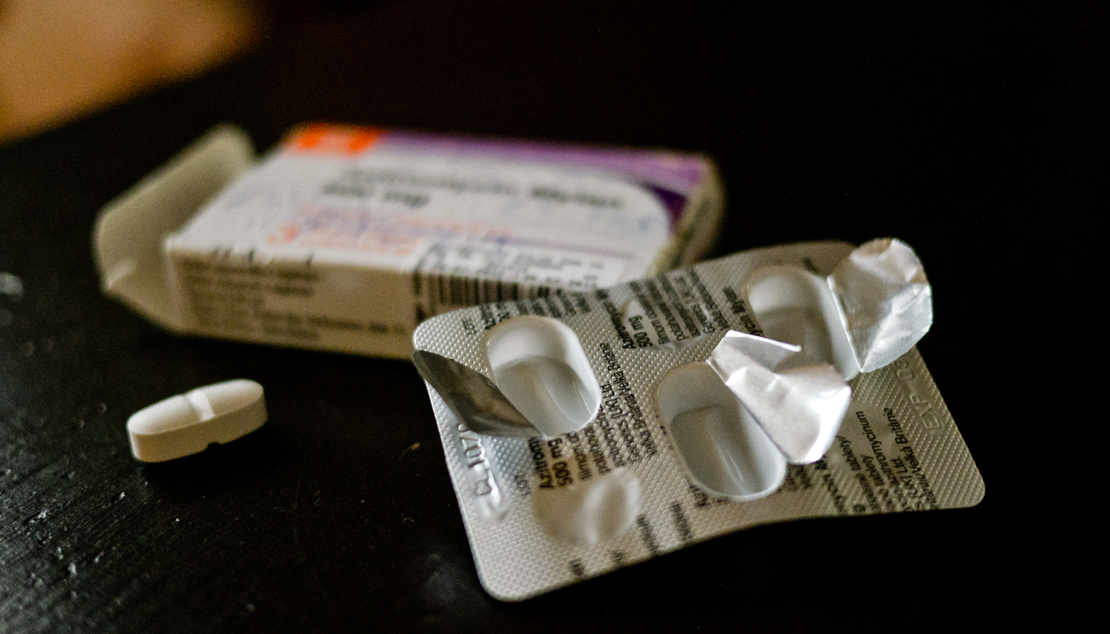 Tak jsem dobral antibiotika. Svoboda! To chce n─Ťco podniknout. Venku reklama na letn├ş po─Źas├ş, hlava napadr┼ą z celot├Żdenn├şho d├Żch├ínku za monitorem, my┼ílenky u┼ż brous├ş po hor├ích. Kamar├íd Ondra Michn├şk mi p┼Öed ─Źasem prozradil zaj├şmav├Ż tip na h┼Öebenovku ve slovensk├Żch hor├ích, kter├ę by - jak v┼íichni v├ş - v├Żborn├ę bikov├ín├ş mohly exportovat. Polana. Hmm. Nic moc mi to ne┼Ö├şk├í, ale podle Ondry opu┼ít─Ťn├ę hory s h┼Öebenovkou jako v kanadsk├ę divo─Źin─Ť. A kdy┼ż to ┼Ö├şk├í Ondra, tak na tom n─Ťco bude.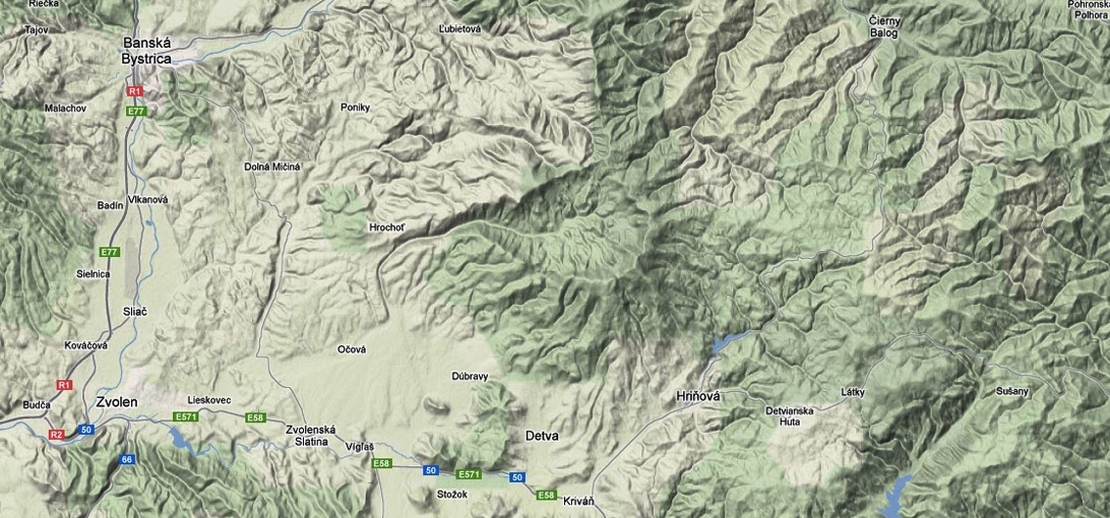 Sta─Ź├ş jeden seznamovac├ş pohled do mapy a hned v├ís napadne, ┼że tu n─Ťco nehraje. Polana toti┼ż nen├ş jen tak n─Ťjak├ę oby─Źejn├ę poho┼Ö├ş. Je to nejvy┼í┼í├ş sope─Źn├ę poho┼Ö├ş ve st┼Öedn├ş Evrop─Ť. P┼Öed 15 mili├│ny lety se tu trhlinou v zemsk├ę k┼»┼Öe vylily andezitov├ę l├ívy a vytvo┼Öily neoby─Źejn─Ť mohutn├Ż vulk├ín o pr┼»m─Ťru 18 kilometr┼». Jeho t├ęm─Ť┼Ö dokonal├Ż kruhov├Ż tvar dnes kaz├ş jen potok H┼»─Źava, kter├Ż si prorazil cestu ven z├ípadn├ş st─Ťnou kr├íteru. S napojen├şm na pokra─Źuj├şc├ş veporsk├Ż h┼Öbet to m┼»┼że d├ít dost zaj├şmavou, p┼Öes 30 kil├ík┼» dlouhou h┼Öebenovku. To stoj├ş za prozkoum├ín├ş, ne?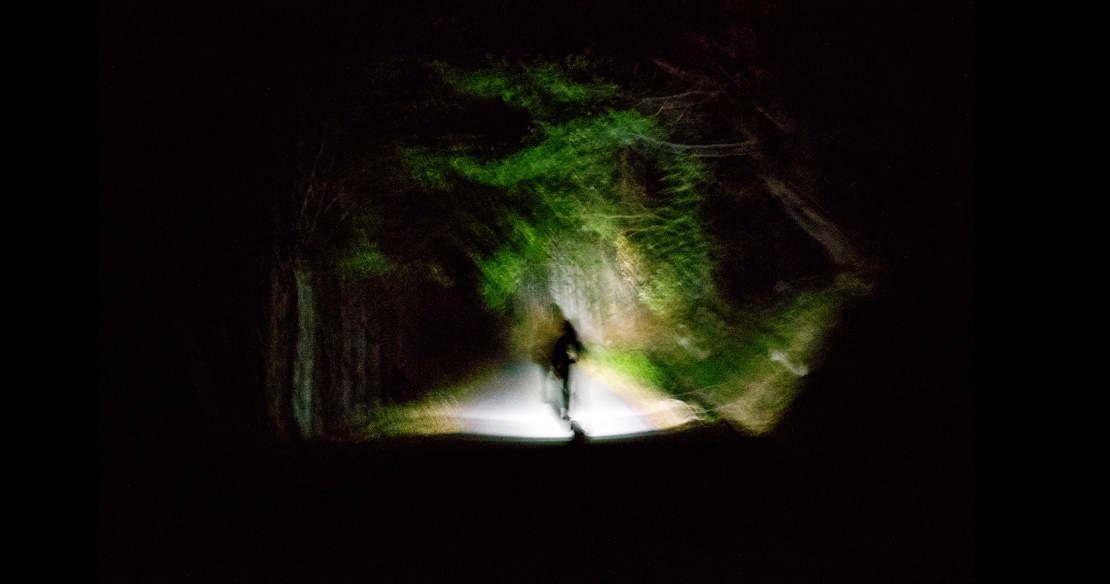 S Honzou Mr├í─Źkem - Mrakem - jsme domluven├ş raz dva. V r├ímci fyzick├ę i psychick├ę rekonvalescence si d├íme po┼Ö├ídn├ę backcountry - batoh, span├ş venku, klob├íska na ohni. Hned na za─Ź├ítku n├ím ale trochu selh├ív├í timing. Zasek├ív├ím se u pr├íce a m├şsto poklidn├ęho odpoledne p┼Öij├ş┼żd├şme do m─Ťste─Źka Hri┼?ov├í se z├ípadem slunce. No nic. Kosmetick├í zm─Ťna pl├ínu. Nasadit ─Źelovky, jde se do akce. Asfaltkou m├ş┼Ö├şme p┼Ö├şmo pod h┼Öeben.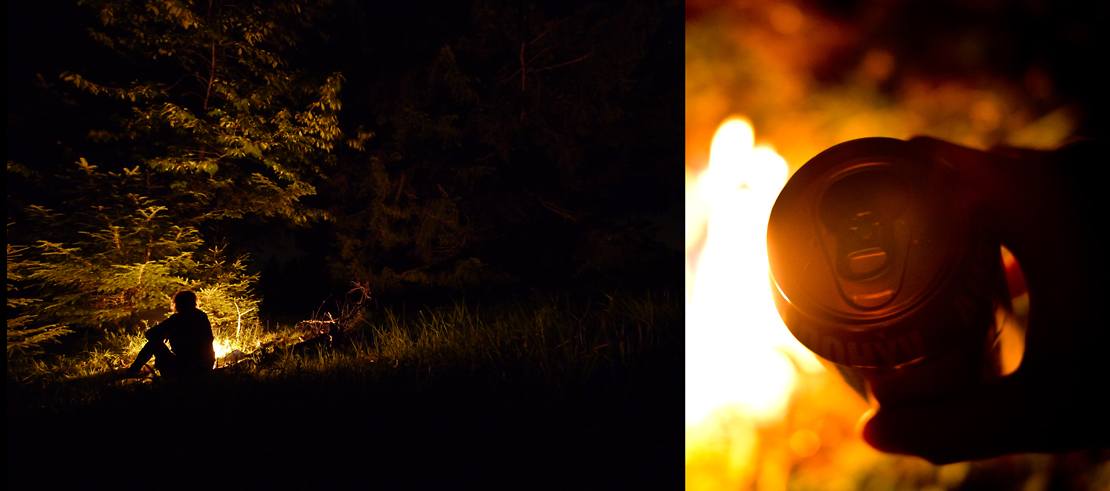 Dv─Ť hodinky j├şzdy, mal├í honi─Źka s ov─Ź├íck├Żmi psy a pro dne┼íek m├íme hotovo. Po 11 kilometrech a skoro tis├şci v├Ż┼íkov├Żch se p┼Öed n├ími rozvaluje par├ídn├ş louka, d├íl jet nem├í smysl. Span├ş skl├íd├íme pod obrovsk├ę smrky, jejich┼ż rozlo┼żit├ę v─Ťtve sahaj├şc├ş a┼ż k zemi budou spolehlivou ochranou p┼Öed rann├ş rosou, a kousek bokem si op├ęk├íme ve─Źe┼Öi. K tomu Mrak vytahuje z batohu baterii piv a j├í mu na opl├ítku vysv─Ťtluju, jak je d┼»le┼żit├ę p┼Öi backcountry efektivn─Ť ┼íet┼Öit ka┼żd├Ż gram hmotnosti. Jdeme sp├ít a┼ż kolem jedn├ę, nad hlavou hv─Ťzdn├ę divadlo, perseidy se p┼Öedh├ín─Ťj├ş, kter├í l├şp zadriftuje do na┼í├ş atmosf├ęry, zb├Żv├í schovat j├şdlo p┼Öed medv─Ťdy a u┼ż nastavuju bud├şk na p├ítou. Dobrou noc.

Tip: Pokud nejste fandou span├ş pod ┼íir├íkem, m┼»┼żete si snadno napl├ínovat trasu tak, ┼że pro p┼Öenocov├ín├ş vyu┼żijete Horsk├Ż hotel Polana nebo Chatu pod Hrbom, kter├ę jsou v├Żhodn─Ť situovan├ę na hlavn├şm h┼Öebenu.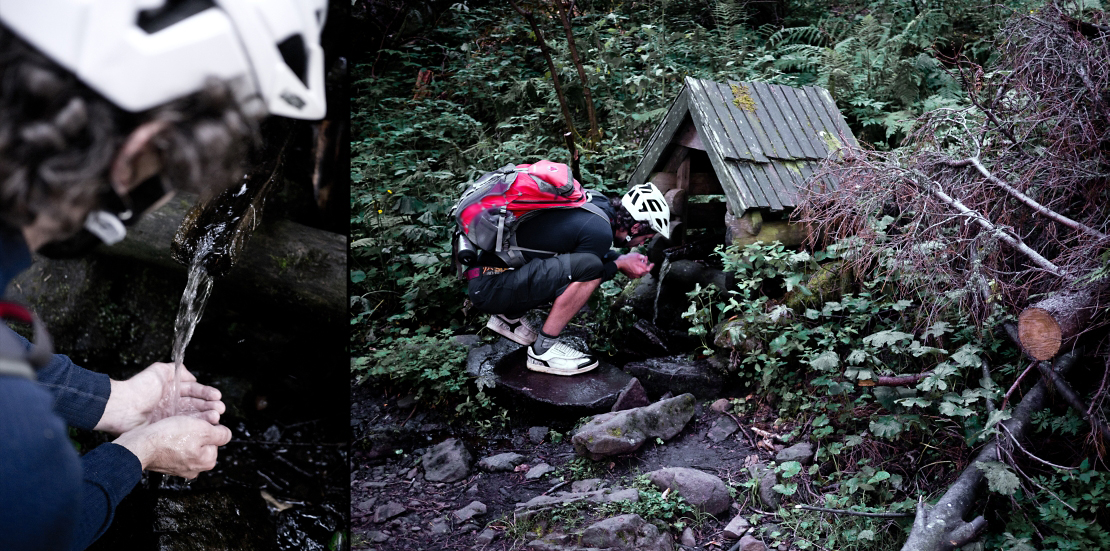 Za 4 hodiny sp├ínku toho moc nevymysl├şte, zvl├í┼í┼ą kdy┼ż p┼»l noci str├ív├şte lu┼ít─Ťn├şm, co je to asi za zv├ş┼Öe, kter├ę se pr├ív─Ť promen├íduje kousek od va┼íeho spac├íku. P─Ťt hodin. Bud├ş─Źek. Vyl├ęzt z vyh┼Ö├ít├ęho spac├íku je jako obvykle ne┼Öe┼íiteln├Ż ├║kol, ale v├Żchod slunce nepo─Źk├í. Rychle bal├şme batohy, k sn├şdani d├ív├íme vodu ze stud├ínky a bez dlouh├ęho vym├Ż┼ílen├ş rozt├í─Ź├şme kola bik┼» k h┼Öebenu.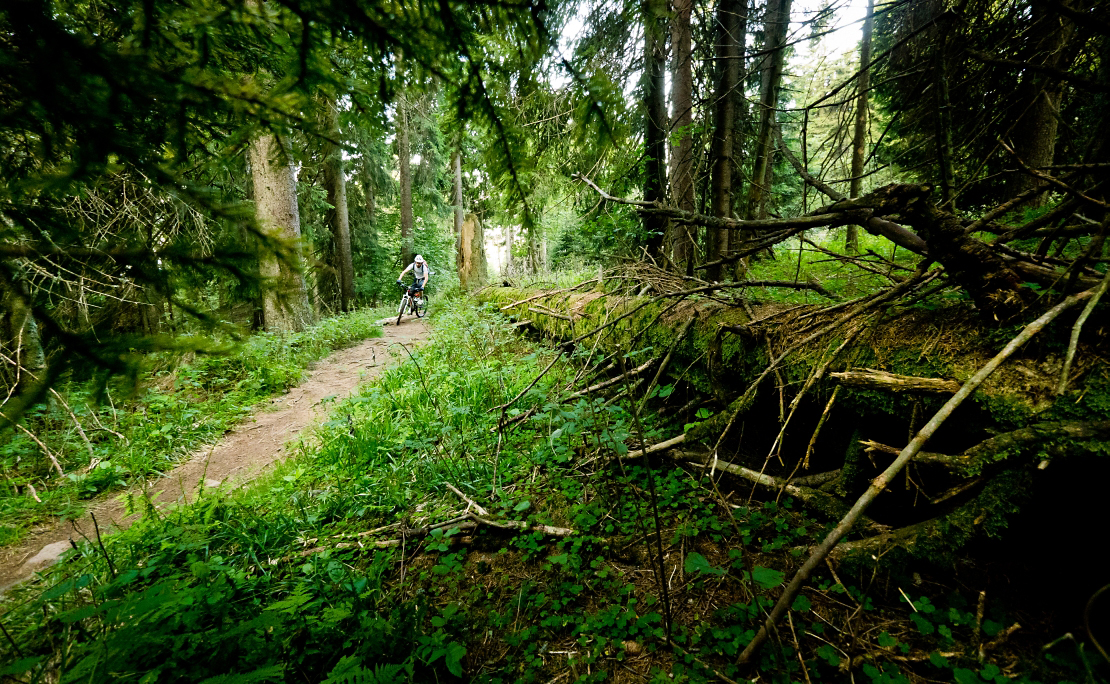 Chv├şli tla─Ź├şme, chv├şli jedeme. ─î├şm v├şc se bl├ş┼ż├şme k vrcholu Polana, t├şm m├ş┼? jedeme a t├şm v├şc tla─Ź├şme. Nakonec u┼ż jen tla─Ź├şme. Ale za─Ź├şn├í to b├Żt zaj├şmav├ę. ├Üzk├í technick├í stezka, kolem divo─Źina. Vypad├í to, ┼że je na co se t─Ť┼íit.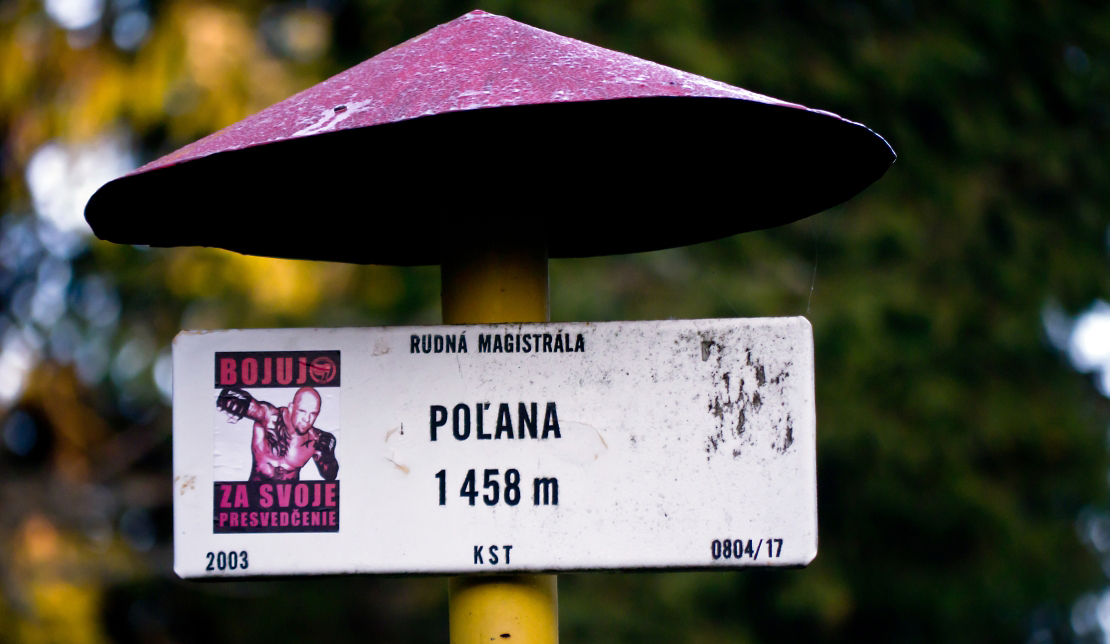 Ani to nebolelo a jsme tady. V├Ż┼í u┼ż to na Polan─Ť nejde. ┼ákoda jen, ┼że se na nejvy┼í┼í├şm vrcholu cel├ęho poho┼Ö├ş nedo─Źk├íte ┼ż├ídn├ęho v├Żhledu. Dobr├í zpr├íva je, ┼że d├íl u┼ż by h┼Öebenov├í stezka m─Ťla pozvoln─Ť klesat. Nen├ş na co ─Źekat, jdeme na to!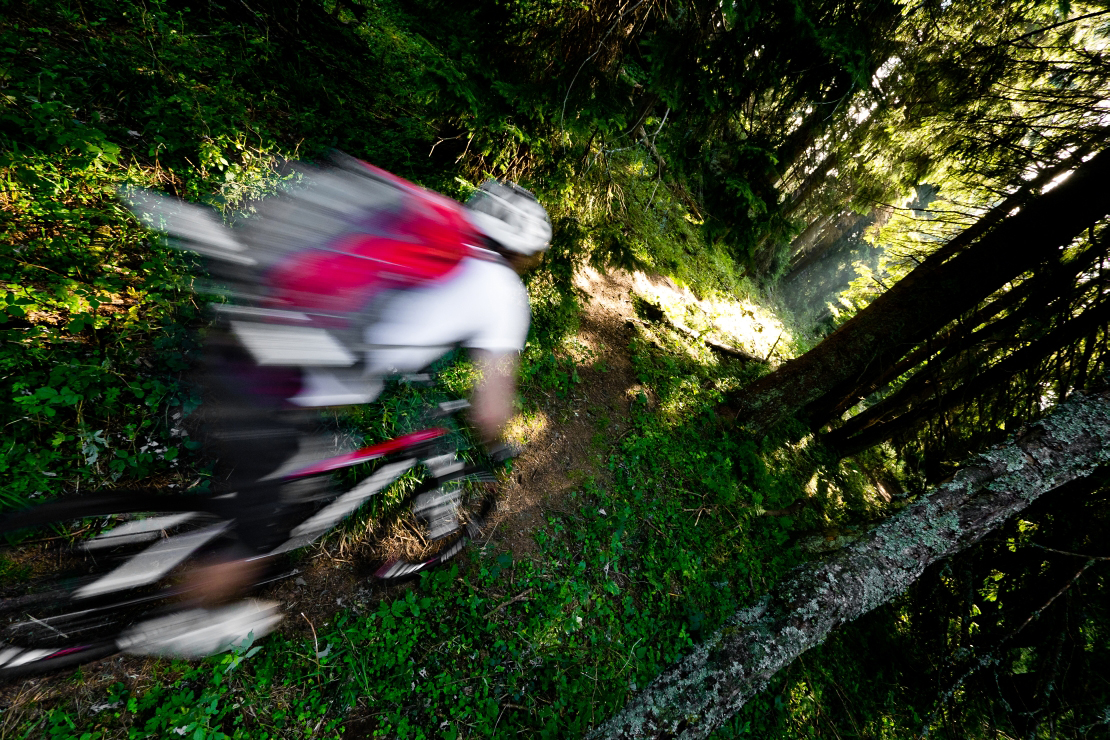 ├Üzk├í stezka se rozb├şh├í mezi stromy. Prudk├ę pas├í┼że st┼Ö├şdaj├ş pozvoln─Ťj┼í├ş ├║seky. Chv├şli umeten├ę jehli─Ź├ş, chv├şli rodeo po skalk├ích a ko┼Öenech.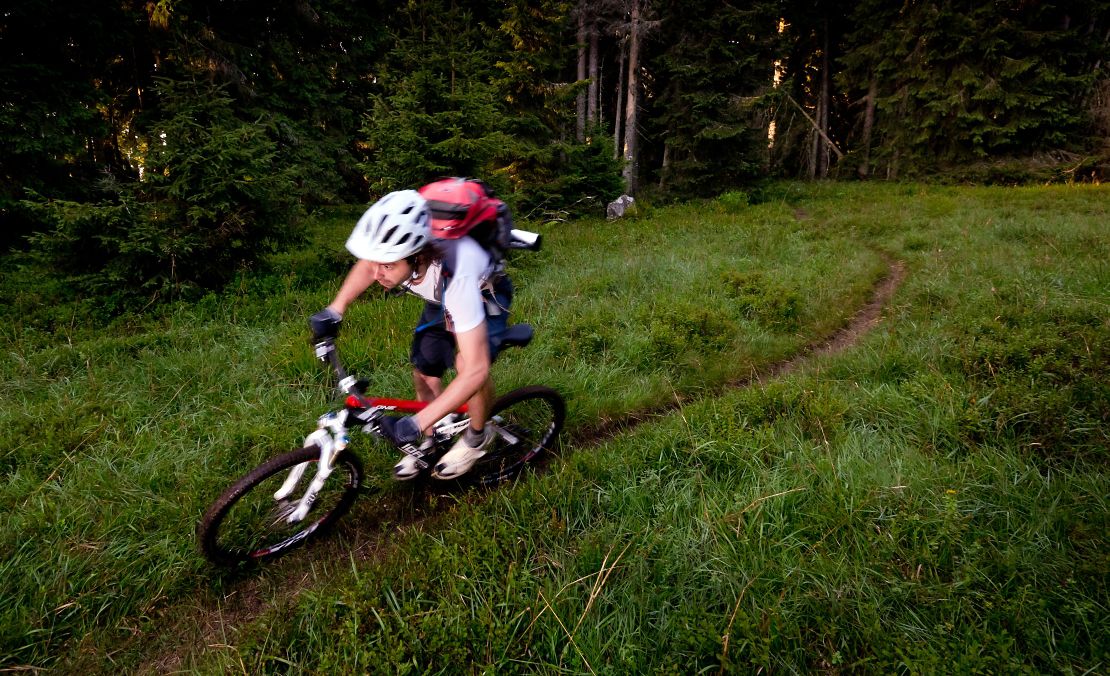 Sta─Ź├ş u┼ż jen p┼Öim├şchat trochu toho flow a m├íme to komplet.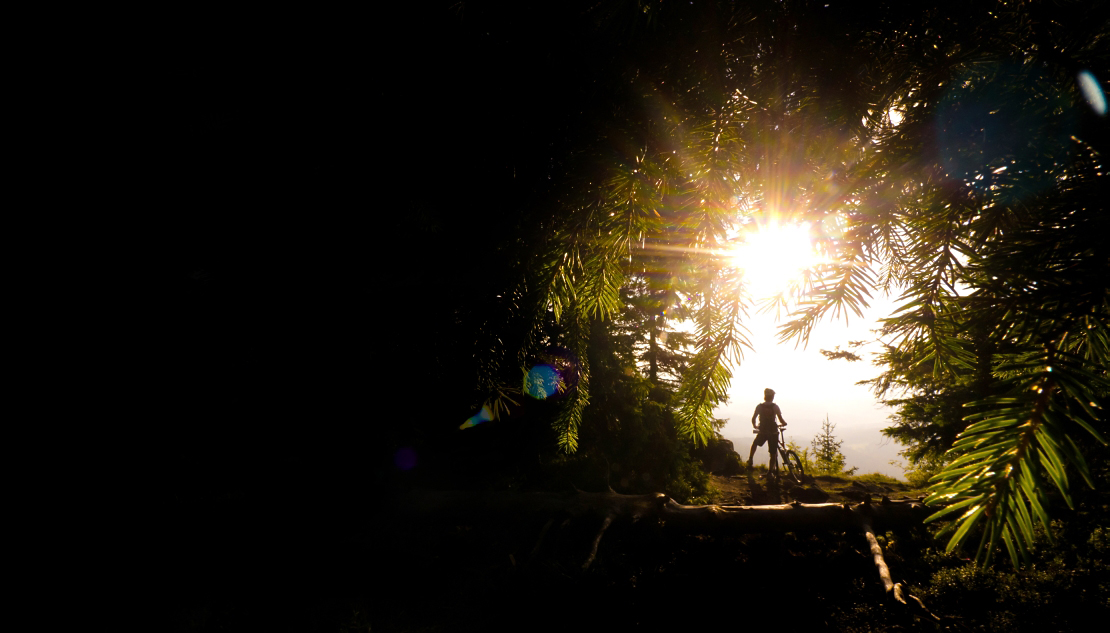 Po prvn├şm kilometru ┼í┼ąavnat├ę h┼Öebenovky p┼Öij├ş┼żd├şme na vrcholek Katru┼íka. Kone─Źn─Ť v├Żhled! Slunce se ┼íkr├íbe nad horizont a my si u┼ż├şv├íme par├ídn├ş kino, kter├ę v multiplexu neza┼żijete.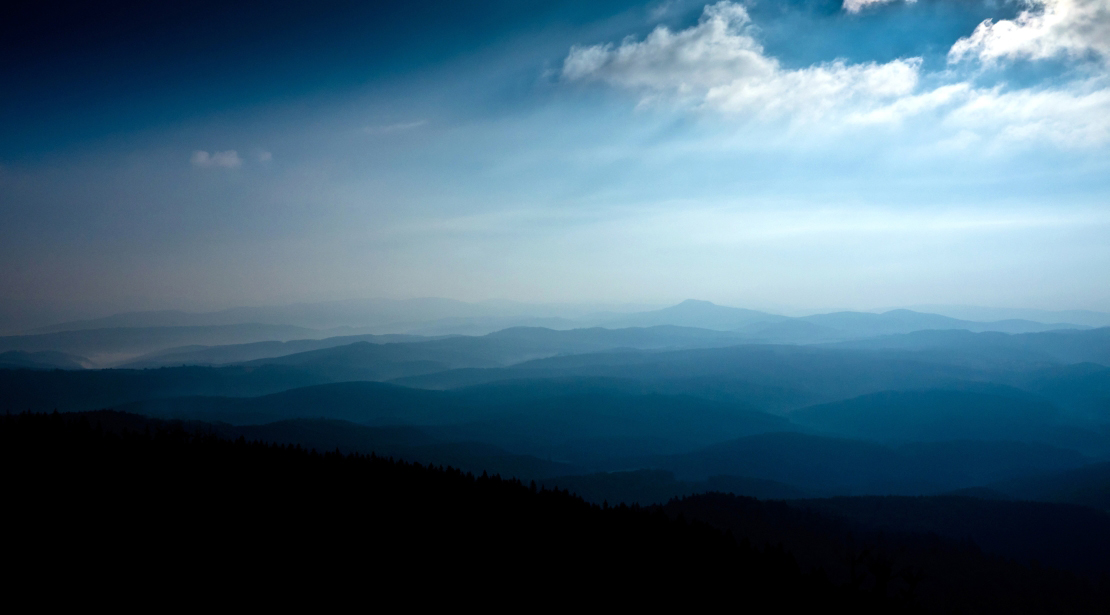 Kope─Źky se v n├şzk├ęm slunku ┼Öad├ş jeden za druh├Ż a v ├║dol├şch je┼ít─Ť vysp├ív├í rann├ş mlha. Tak to m├ím r├íd.
Tip: Katru┼íka je super m├şsto pro p┼Öesp├ín├ş. Hned vedle skalnat├ę vyhl├şdky je dob┼Öe chr├ín─Ťn├í plo┼íinka, ze kter├ę m├íte v├Żchod slunce jako na dlani. P┼Ö├ş┼ít─Ť d├íme ubytko ur─Źit─Ť tady.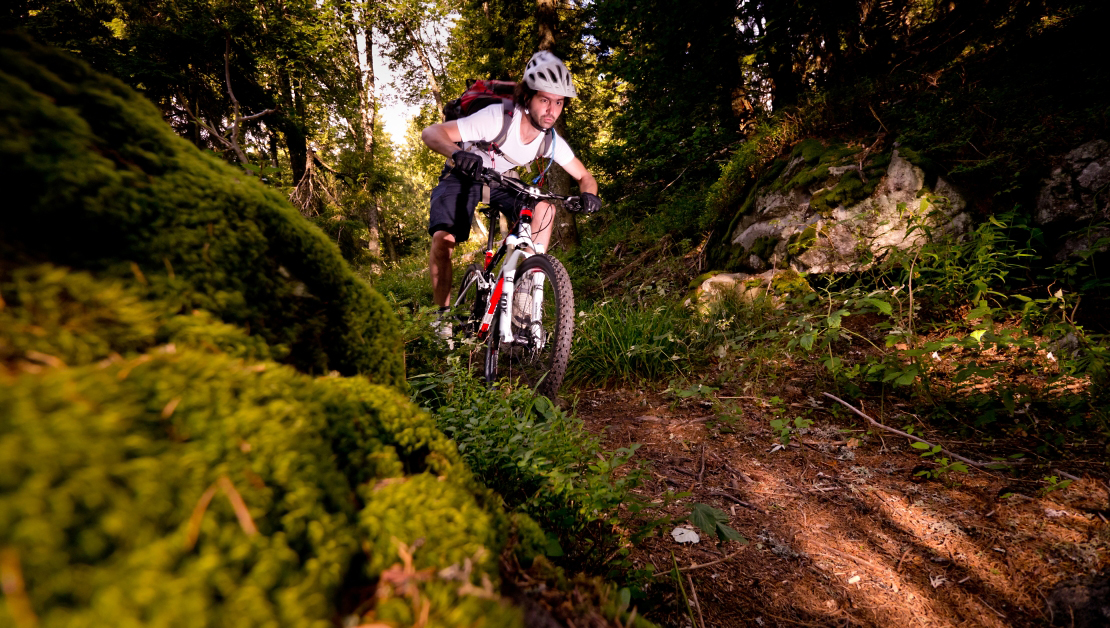 Po chvilce poezie zase vyr├í┼ż├şme. H┼Öebenov├í par├ída pokra─Źuje. Trail se s n├íma nemazl├ş, ale my taky nejsme ┼ż├ídn├ę sle─Ź├şnky.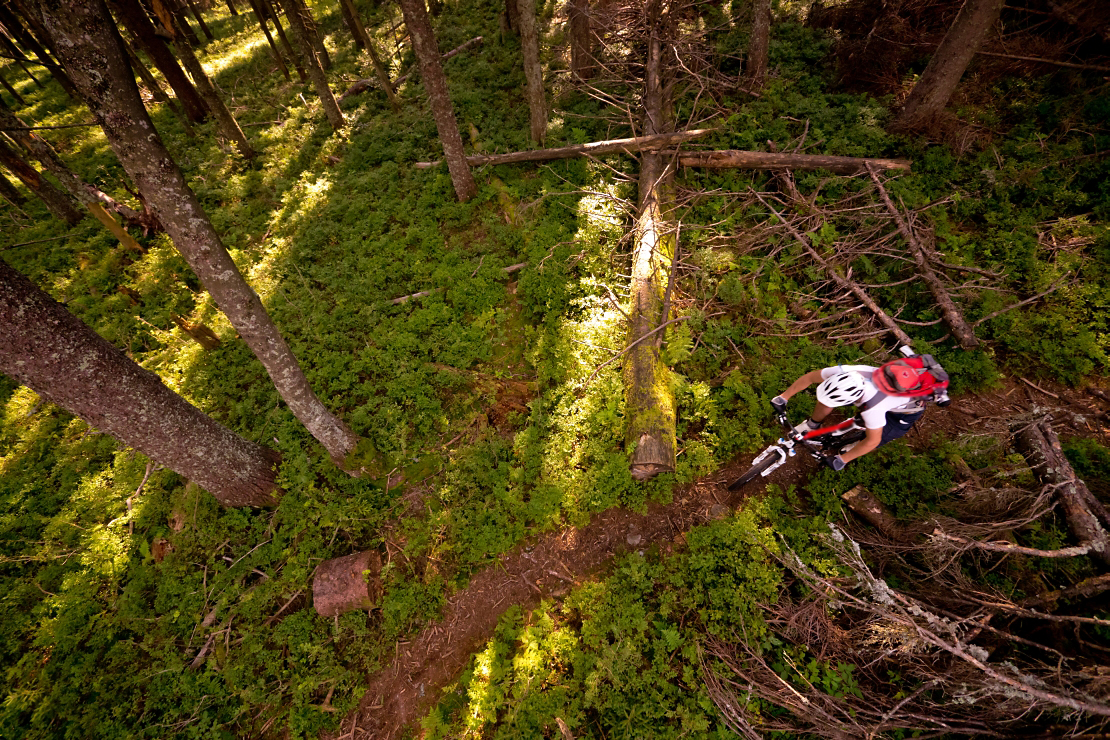 Kdy┼ż si budete hledat informace o Polan─Ť, z titulk┼» na v├ís ur─Źit─Ť mezi prvn├şmi vysko─Ź├ş slovo "divo─Źina". Za osv─Ť┼żuj├şc├ş samotu ale zaplat├şte bikerskou sesedac├ş da┼?. Sem tam se v├ím toti┼ż do cesty postav├ş popadan├ę kmeny - zastavit, sesednout a p┼Öen├ęst. Ale nic stra┼ín├ęho. To je┼ít─Ť nev├şme, do ─Źeho jedeme.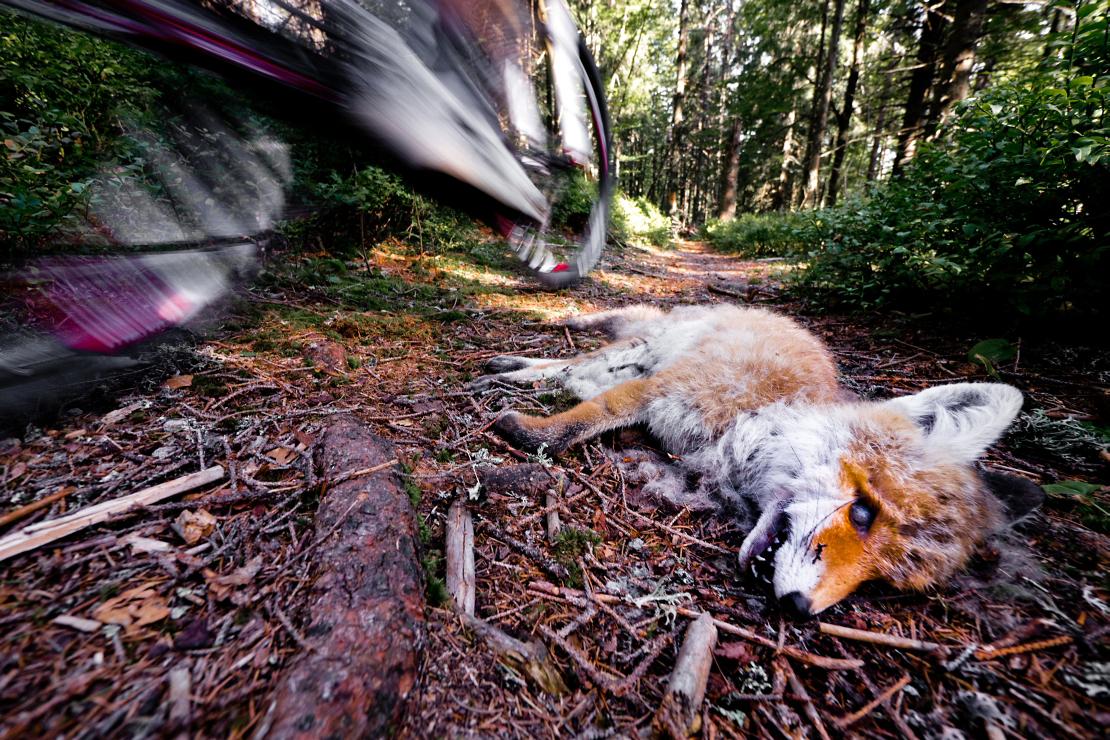 A kdy┼ż u┼ż je ┼Öe─Ź o t├ę divo─Źin─Ť. Na Polan─Ť se podle rok star├ęho s─Ź├şt├ín├ş potuluje t┼Öic├ştka medv─Ťd┼». Alfa samec Michal, kter├Ż m├í Polanu pod tlapou, m├í p┼Öes t┼Öi metr├íky, kdy┼ż se postav├ş na zadn├ş, m├í dva a p┼»l metru na v├Ż┼íku a kdy┼ż se rozb─Ťhne, p┼Öedb─Ťhne kon─Ť i Bolta. Tak┼że respekt a opatrnost je na m├şst─Ť. My ale potkali jen li┼íku. A je┼ít─Ť mrtvou.
Tip: V z├ílo┼żce reportu Info najdete rady, co d─Ťlat a jak se chovat p┼Öi setk├ín├ş s medv─Ťdem.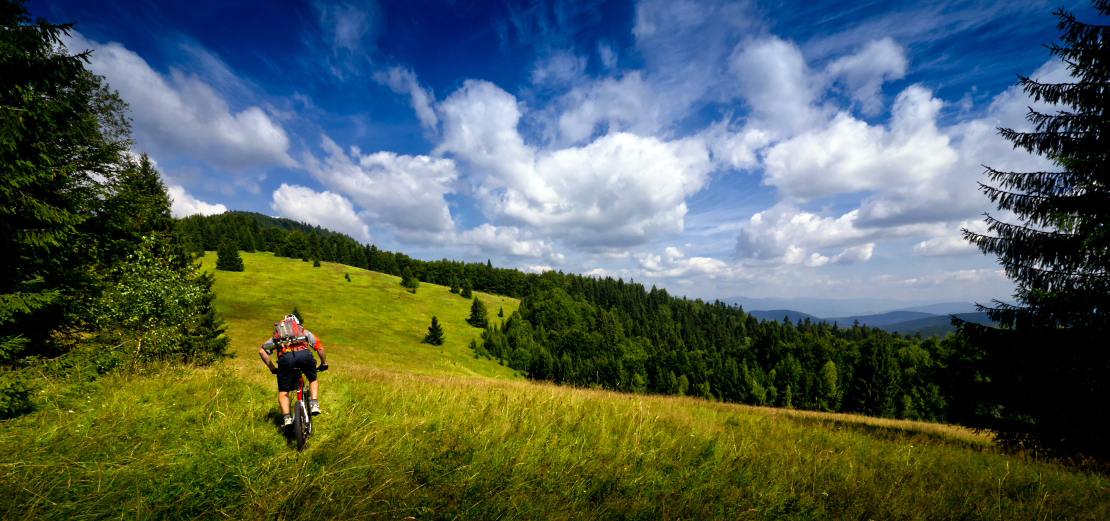 Do sedla Jasenov├í to je ┼ípi─Źkov├Ż, asi sedmikilometrov├Ż bajking. ├Üzk├í stezka v hlubok├ęm lese, pln├í svi┼żn├Żch i techni─Źt─Ťj┼í├şch pas├í┼ż├ş, decentn─Ť vyu┼ż├şv├í velkorysou d├ívku v├Ż┼íkov├Żch metr┼». Nepad├íte dol┼» jako ┼íutr, ani se nepl├íc├íte na rovin─Ť. Tak to m├íme r├ídi. Za sed├Żlkem se z hlubok├ęho lesa vymot├ív├íme na prvn├ş louky. Fakt idylka, ┼íkoda ┼że p┼Öest├ív├í legrace.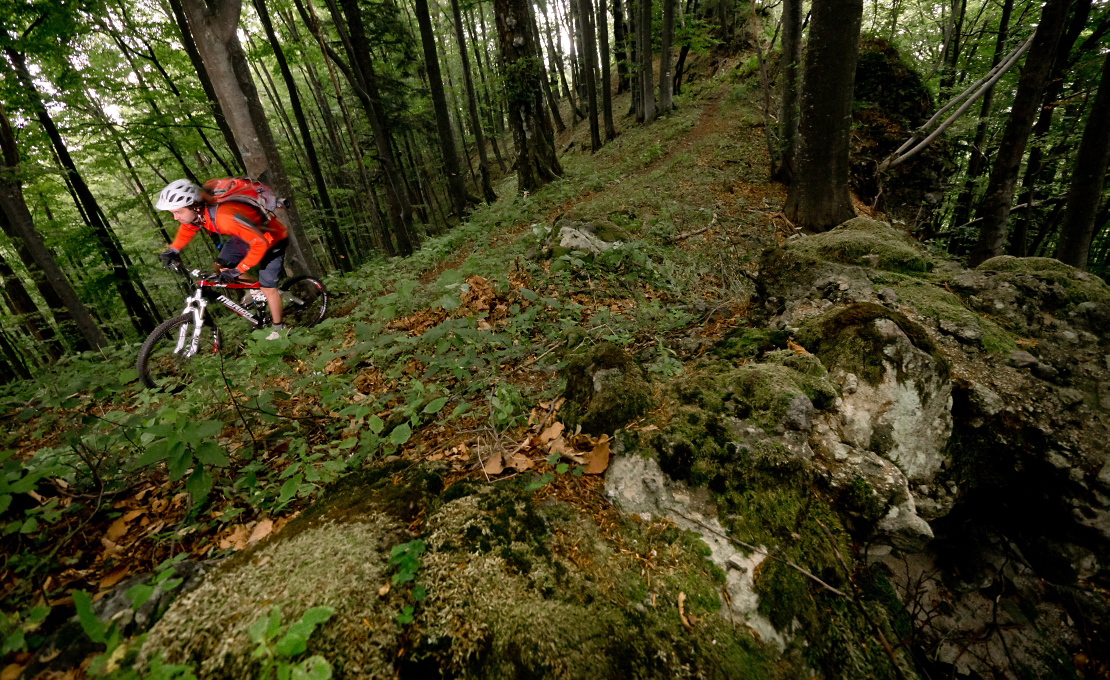 Stoj├şme toti┼ż p┼Öed Veporom - 1277 metr┼» vysok├Żm vl├ídcem severn├şho h┼Öeb├şnku Polany. Odtud je to zkou┼íka trp─Ťlivosti, kvality l├Żtek a va┼í├ş nosnosti. Prudk├Ż v├Żtla─Ź po rozhicovan├Żch louk├ích graduje ostr├Żm z├ív─Ťrem s kolem na z├ídech. Kdy┼ż u┼ż se vy┼íkr├íbete na Vepor a mysl├şte si, ┼że se zaslou┼żen─Ť svezete po ├║hledn├ęm h┼Öeb├şnku, m├íte sm┼»lu. Nesvezete. Popadan├ę stromy a prales d─Ťlaj├ş ze stezky besti├íln├ş prol├ęza─Źku, ve kter├ę je v├ím kolo platn├ę jako mrtv├ęmu botn├şk. To ┼że je tady m├şsto ├║trap bikov├í fotka z jedin├ęho 50 metr┼» dlouh├ęho ├║seku, kter├Ż se dal p─Ťkn─Ť jet, je jen finta na ty, co si ne─Źtou texty na┼íich report┼».

Tip: ├Üseku od sedla Jasenov├í po chatu pod Hrbom se vyhn─Ťte jako ─Źert k┼Ö├ş┼żi. Jeho objet├ş je ale docela snadn├ę kombinac├ş modr├ę a ─Źerven├ę zna─Źky.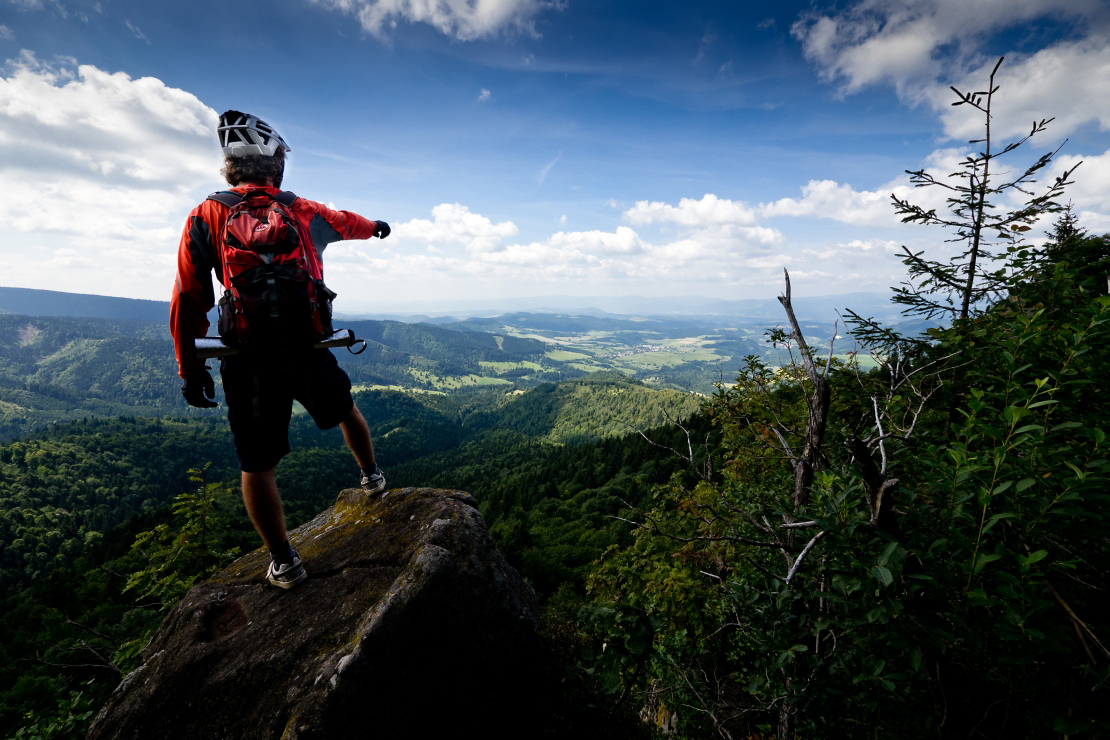 Na┼ít─Ťst├ş u┼ż Mrak vid├ş konec na┼íeho tr├íp─Ťn├ş, sv─Ťt├Żlko na konci tunelu. Prost─Ť hospodu.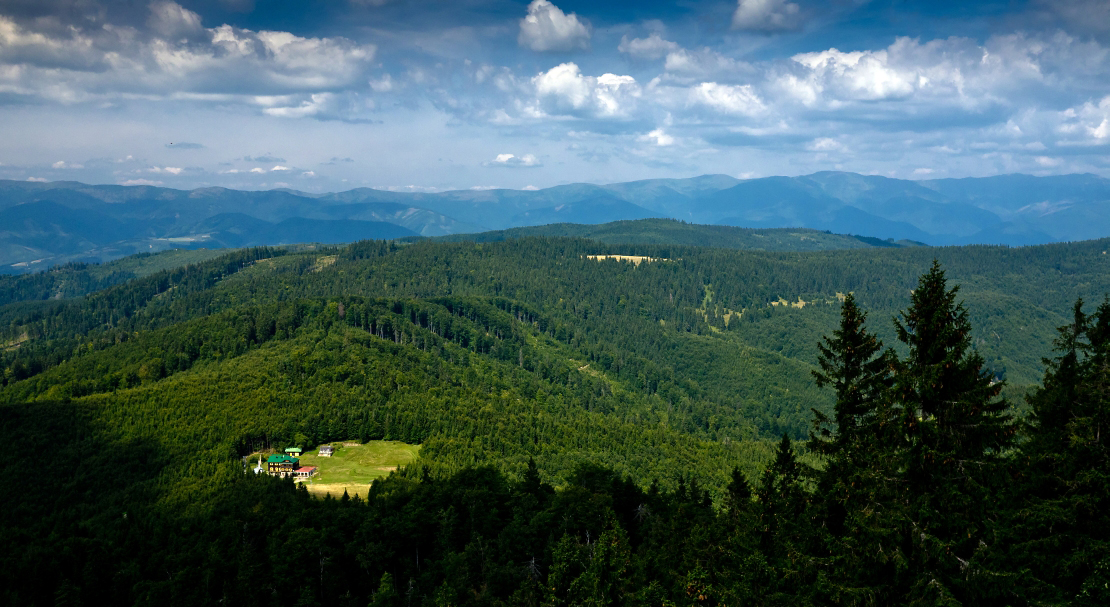 Vlastn─Ť horskou chatu pod Hrbom, ale to je v tuto chv├şli jedno. Trochu n├ís toti┼ż znepokojuje, jak na n├ís civ├ş prvn├ş lid├ę, kter├ę dnes na h┼Öebenu potk├ív├íme. Dal┼í├ş p├írek turist┼», kter├Ż potk├ív├íme, k nech├ípav├ęmu pohledu p┼Öid├ív├í i dotaz, jak se m├şn├şme dostat dol┼». To stejn├ę sly┼í├şme i od dal┼í├şch lid├ş, kter├ę potk├ív├íme t├şm ─Źast─Ťji, ─Ź├şm v├şc se bl├ş┼ż├şme ke zdroji piva. A opravdu. H┼Öeb├şnek na Hrbu kon─Ź├ş, jako kdy┼ż utne a stezka miz├ş kdesi v hloubi mezi obrovsk├Żmi balvany. Stylov├ę zakon─Źen├ş!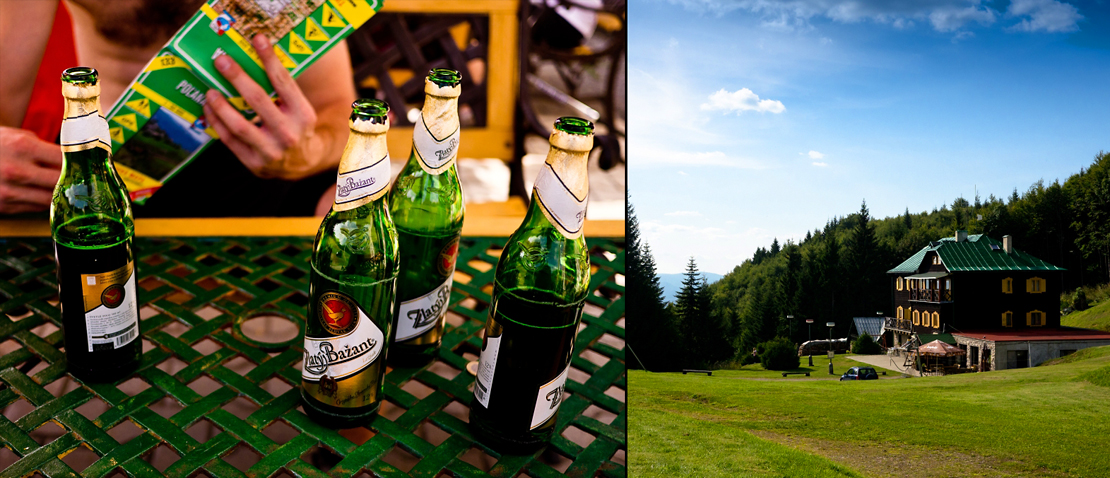 Ale v┼íechno ┼ípatn├ę jednou kon─Ź├ş a to p─Ťkn├ę za─Ź├şn├í.

Od chaty pod Hrbem m├íme na v├Żb─Ťr celou ┼Ö├ídku mo┼żnost├ş, jak pokra─Źovat d├íl. Masiv polansk├ęho h┼Öebene se tu toti┼ż rozb├şj├ş do men┼í├şch h┼Öbet┼» pozvoln─Ť padaj├şc├şch do ├║dol├ş Hronu. Vyb├şr├íme si ┼żlutou zna─Źku, kter├í by podle mapy m─Ťla m├şt nejlep┼í├ş kurz na sm─Ťnu v├Ż┼íkov├Żch metr┼».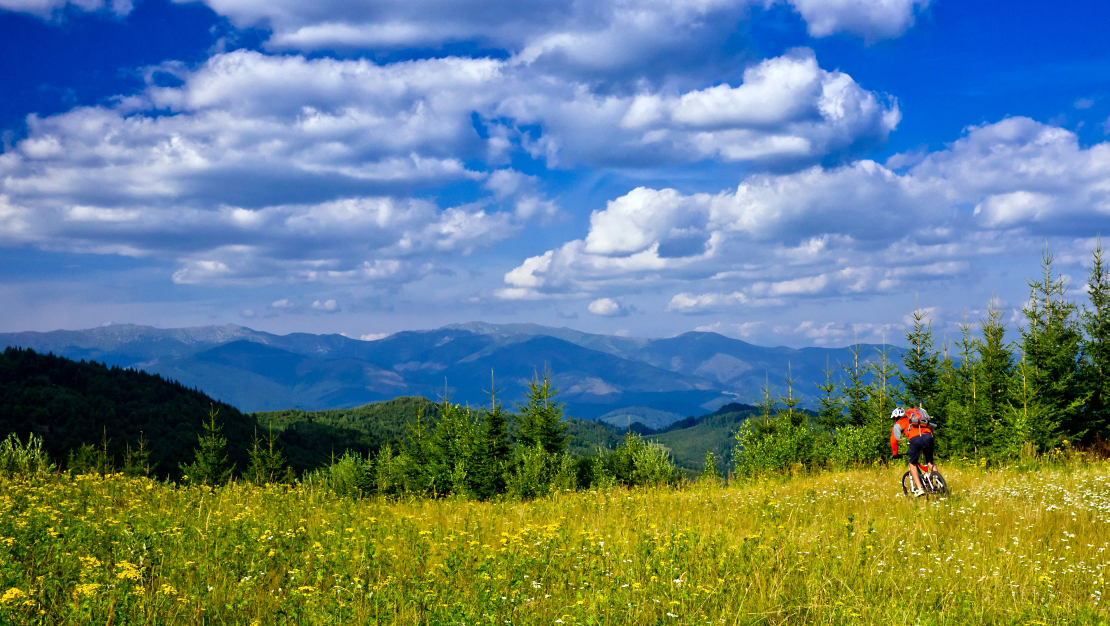 Sm┼»la. Asi jsme se moc kochali v├Żhledy na N├şzk├ę Tatry, n─Ťkde u Velk├ęho ─îelna jsme p┼Öejeli odbo─Źku a beznad─Ťjn─Ť zhu─Źeli do sedla, hluboko pod na┼íi zna─Źku. M├şsto zaslou┼żen├ęho z├ív─Ťru tak do civilizace p┼Öij├ş┼żd├şme potupn─Ť po lesn├ş asfaltce. Ach jo. Kolem osm├ę jsme po ve─Źe┼Öi a je na ─Źase vy┼Öe┼íit co d├íl. Jsme v polovin─Ť na┼íeho pl├ínu, z├ştra n├ís ─Źek├í oto─Źka a pades├ítikilometrov├Ż n├ívrat do Hri┼?ov├ę k autu. Tak┼że bu─Ć si m┼»┼żeme d├ít po celodenn├ş d┼Öin─Ť sprchu a penzi├│nek. Nebo je┼ít─Ť chv├şli pokra─Źovat, ne┼ż najdeme p─Ťkn├ę m├şsto na bivak. Nebo? P┼Öi vym├Ż┼ílen├ş variant si vzpom├şn├ím na vypr├ív─Ťn├ş Johna Saram├íka, jak absolvoval leto┼ín├ş ro─Źn├şk extr├ęmn├şho z├ívodu 1000 Miles Adventure. "V┼íechno je to o hlav─Ť," zn─Ťl koncentr├ít jeho moudrosti vydobyt├Ż z 1600 kil├ík┼» ┼í├şlen├ęho z├ívodu nap┼Ö├ş─Ź ─îeskoslovenskem. "Nebo m┼»┼żeme nasadit ─Źelovky a dojet to zp├ítky je┼ít─Ť dneska," h├í┼żu p┼Öed Mraka ┼í┼ąavnat├Ż fl├ík v├Żzvy. No co mysl├şte?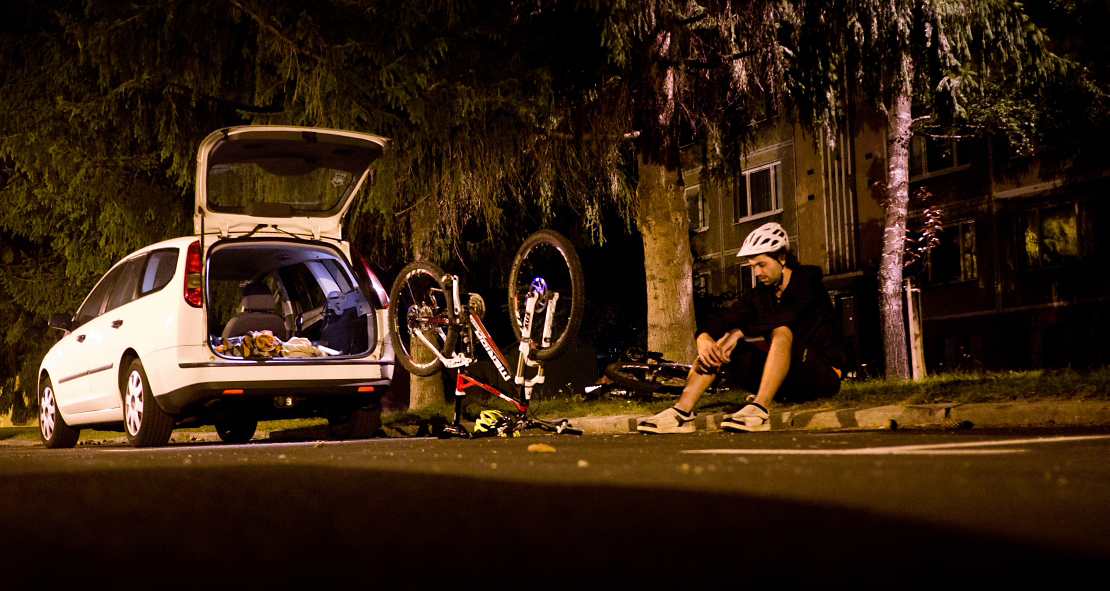 Po ─Źty┼Öech hodin├ích mizern├ęho sp├ínku. S 45 t─Ť┼żk├Żmi kilometry a osmn├ícti sty metry p┼Öev├Ż┼íen├ş v noh├ích. Zadky ohoblovan├ę od cel├ęho dne v sedle, z├ída ├║p─Ťj├şc├ş pod napln─Ťn├Żmi batohy. No jasn─Ť, jdeme do toho. ┼?├ídky o nekone─Źn├Żch 50 kilometrech blahosklonn─Ť p┼Öesko─Ź├şm. Kolem p┼»lnoci jsme sice lehce p┼Öimrzl├ş ke kolu, ale zato v Hri┼?ov├ę s jasn├Żm d┼»kazem, ┼że kdy┼ż hlava chce, i motyka spust├ş.